These quick & easy brie bites with fig jam are a delicious appetizer or snack. Cheesy, sweet, and absolutely irresistible! 
My wife can tell you—I absolutely love fig jam and brie. I usually have them cold on a slice of fresh, warm bread or toast in the morning. Those two flavors are some of the most delicious combinations I've ever come across.
Some time ago, while we were entertaining guests, we baked a whole wheel of brie and topped it with fresh figs, pistachios, fig jam, and walnuts from a recipe we found here. It was a crowd-pleaser, and it didn't hurt that it looked good, too.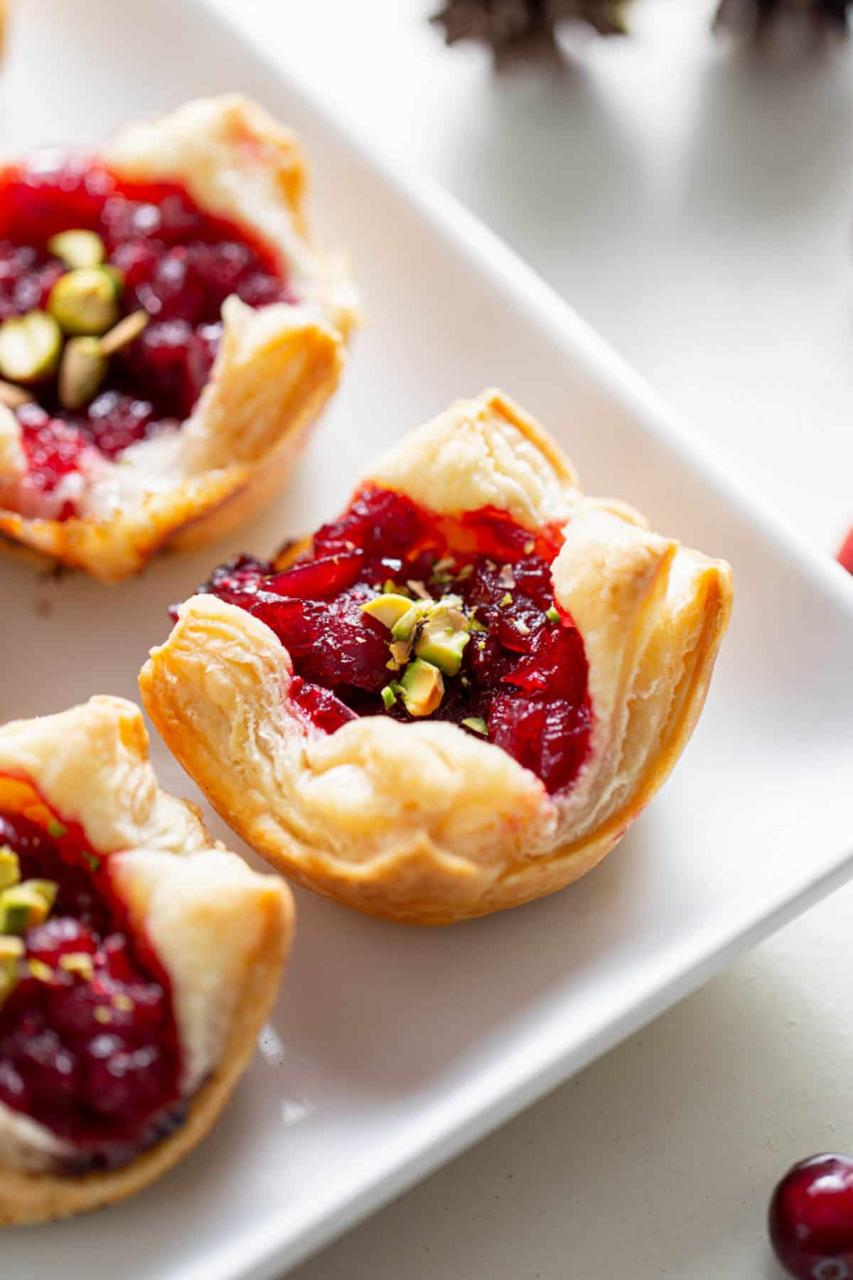 However, now with a baby girl always running around, we often depend on food that's fast, easy to make and still delicious.
So when I was craving my brie and fig combo, I thought: why not wrap them in puff pastry and bake them? There's a popular dish where you wrap the whole wheel of brie in pastry and bake it.
For my version, however, I decided to miniaturize it so that it would be done faster and I could eat it on the go. And that's where this recipe came from. It's quick, delicious, and I wish I could invite you over to try them—except my daughter ate them all.
It's a great go-to dish for when you're having friends over and need a quick appetizer. Besides fig jam, you can use whatever combination you'd like—apricot, orange, raspberry. You can even go savory and add rosemary and cracked pepper. The sky's the limit with this one.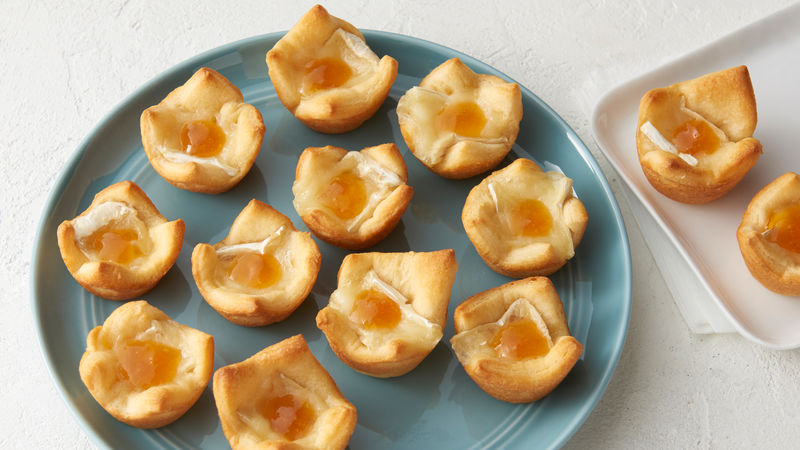 Baked Brie Bites
These quick & easy brie bites with fig jam are a delicious appetizer or snack. Cheesy, sweet, and absolutely irresistible!
Ingredients
6

sheets puff pastry

thawed

230

g

8 oz. brie

4

tbsp

fig jam

1

medium egg

6

dried figs

chopped (optional)

1/4

cup

pistachios

chopped (optional)

1

tbsp

butter

for greasing
Instructions
Preheat the oven to 200°C. Grease a muffin tin with the butter.

Roll out each sheet of puff pastry to make them thinner. Divide each sheet in half, so that you'll have 12 squares in total (the puff pastry we have here are long sheets—whatever you can get, make sure you have 12 squares).

Place the squares in the prepared muffin tin. Divide the brie into 12 similar pieces (you can add more or less, depending on how much cheese you want for each).

Put a teaspoon of fig jam on top of the brie.

Optionally, add chopped dried figs and pistachios to each for extra crunch and flavor.

Close the brie bites by folding each corner on top of each other.

Make an egg wash by mixing 1 egg with 1 tablespoon of water. Brush the puff pastry with the egg wash.

Place in the oven and bake until golden brown, about 20 minutes. Remove and devour.

Bon appetit!
Notes
These Baked Brie Bites with Fig Jam are the perfect party appetizer. They're easy to make, only take 30 minutes, and are sure to impress your guests. The key to this recipe is the fig jam filling - it has the perfect sweetness and pairs perfectly with the rich, creamy brie. So if you're looking for an impressive and delicious dish that everyone will love, look no further than this recipe.
The Secret To The Perfect Fig Jam Filling
Fig jam is a versatile ingredient that can be used in many different dishes. One of the most popular fig jams is fig jam filling, which is a delicious combination of figs and sugar. Fig jam filling is perfect for any occasion, as it can be enjoyed as a dessert or as a savory dish.
Fig jam filling is simple to make and requires only a few basic ingredients. This recipe is perfect for beginners, and can easily be adapted to your own personal taste. Plus, it can be made ahead of time so that you have plenty of time to prepare it ahead of time.
Fig jam filling makes an elegant addition to any meal, and is sure to impress any guests who try it. Whether you're serving it as part of a dessert tray at your next party or adding it to your favorite savory dish, this recipe will certainly please everyone in attendance!
Tips For Making Crispy, Delicious Appetizers
Brie Bites are a classic appetizer that is sure to please. They are easy to make, and they require just a few basic ingredients. Plus, they come out crispy and delicious every time. Below, we will outline the steps that you need to take in order to make perfect Brie Bites.
First, what is Brie Bites? These bite-sized appetizers are made from brie cheese that has been breaded and then simmered in a simple syrup until it's nice and crispy. To make these bites even more flavorful, fig jam is often added for extra sweetness and flavor.
Next, what ingredients are used in making Baked Brie Bite? Most of the ingredients – including brie cheese, breading, and fig jam – can be found at your local grocery store. Just be sure to choose high-quality products that will not spoil or go bad while you're cooking them.
Finally, tips for making perfectly crispy brie bites abound. Be sure to follow the recipe precisely so that your bites turn out perfectly fluffy and golden brown all around. And don't forget about your fig jam – it's necessary for adding flavor and sweetness to the dish!
To assemble your bites, simply layer brie cheese on top of some crackers or bread slices before topping with a dollop of fig jam if desired. Then enjoy right away! And if you have any leftover brie bites (which is likely), store them in an airtight container for later use. We hope this recipe has helped you get started on creating your very own batch of irresistible Baked Brie Bits!
FAQs About Serving And Storing Baked Brie
When it comes to cheese, there are few things as delicious as a nice piece of baked brie. This cheese is easy to prepare and can be served in a variety of ways, from on a cracker to in a cheese plate. Below, we will answer some common questions about baking and serving this delicious cheese.
First, let's talk about preparation. Baked brie should be served chilled or at room temperature, and it should be cut into small bites or slices to avoid becoming greasy. To make the perfect fig jam for baked brie bites, you'll need fresh figs that have been peeled and chopped finely. You can also use commercially available fig jam, but we recommend using our own homemade version if possible.
Next, let's talk ingredients. As with any cheese dish, the quality of your ingredients will determine the quality of your finished product. For the perfect fig jam, we recommend using sweetened dried fruit such as raisins or currants instead of sugar cubes or other artificial sweeteners. Finally, for proper storage instructions for baked brie bites and other cheeses, follow these guidelines: keep them sealed in an airtight container in the fridge for no more than two days; store them at room temperature for no more than four hours; and eat them within one week of preparing them.
Now that you know how to make baked brie bites perfectly every time – with our easy-to-follow tips – it's time to start making your favorite dish! Our selection of different types of cheeses can be combined together in any number of ways to create the perfect cheese plate – so get creative! And don't forget to serve along our delicious fig jam for an extra special treat!
1. What is baked brie?
Baked brie is a type of cheese that is typically wrapped in dough or pastry and then baked. It can be served as a savory or sweet dish, and is often served with fruit, nuts, or honey.
2. How should I store baked brie?
Baked brie should be stored in the refrigerator, and will last for up to two weeks. Once you have baked the brie, you can store it in an airtight container or wrap it in plastic wrap.
3. How long will baked brie last?
Baked brie will last for up to two weeks in the refrigerator.
4. Can I freeze baked brie?
Baked brie can be frozen, but it may affect the taste and texture of the cheese. If you do freeze it, make sure to wrap it tightly in plastic wrap or an airtight container.
5. How do I reheat baked brie?
Baked brie can be reheated in the oven, microwave, or on the stovetop. If you are reheating it in the oven, preheat the oven to 350 degrees Fahrenheit and place the brie on a baking sheet. Bake for 10-15 minutes, or until the brie is heated through. If you are reheating it in the microwave, place the brie on a microwave-safe plate and heat for 30-60 seconds, or until the brie is heated through. If you are reheating it on the stovetop, place the brie in a skillet over low heat and cook for a few minutes, or until the brie is heated through.
Source: https://foodandmeal.com