These peri peri and pineapple glazed chicken wings combine the flavor of spicy peri peri (or piri piri) and tropical pineapple for a sticky sauce that is not too sweet, not too spicy. A perfect appetizer for any casual occasion.
There's a very popular restaurant in South Africa called Nando's which makes a delicious peri peri grilled chicken. The peri peri is spicy, colorful and works well with sweet or salty flavors, and reminds me very much of my childhood in Cape Town.
When I was hungry this week, I wanted something quick but of course also flavorful. As you know, we're quite big here on appetizers, such as our brie and fig jam bites or stuffed mushrooms. The kind of appetizers we like take almost no time, require no fancy ingredients and have a strong, memorable flavor.
These are no different. These are perfect for any time, but especially for when you have guests over or if you want something exciting for the weekend.
Peri peri peppers are hot but also a bit sweet, and although I could find them everywhere in Cape Town, I can only find the marinated kind here in Vilnius. Similarly, none of the fresh pineapples were ripe, and since I needed pineapple juice anyways, I just went ahead and used canned pineapples.
In both cases, fresh peri peri and fresh pineapple would deliver even more flavor, although I would use about half of the peppers as I did here.
I adapted this recipe from one I found on Epicurious (one of my favorite sites), which was flavorful and made with regular chili peppers, but lacked the punch I needed.
So let me not tease you—here's the recipe for the flavorful peri peri and pineapple glazed chicken wings.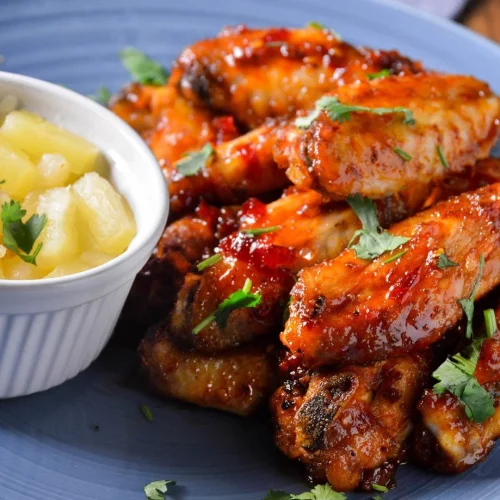 Peri Peri & Pineapple Glazed Chicken Wings
These peri peri and pineapple glazed chicken wings combine the flavor of spicy peri peri (or piri piri) and tropical pineapple for a sticky sauce that is not too sweet, not too spicy. A perfect appetizer for any casual occasion.
Ingredients
12

chicken wings

whole

1

tsp

cumin

1

tsp

coriander powder

1/2

tsp

paprika

1

cup

pineapple juice

4

marinated peri peri peppers

chopped (1-2 if using fresh)

4

garlic cloves

minced

1/2

lime

2

tbsp

apple cider vinegar

2

tbsp

brown sugar

1

tbsp

paprika
Instructions
Preheat oven to 220°C. Separate the chicken wings and cut off the wing tips, which you can use save to make your own chicken stock.

Mix together the cumin, coriander and 1/2 tsp paprika and sprinkle over the chicken wings. Add salt and pepper.

Place chicken wings on a foil-lined baking sheet and place into the oven. After 10 minutes, turn the temperature down to 180°C and cook for a further 25-30 minutes.

In the meantime, you can prepare the sauce. Add the pineapple juice, peri peri peppers, garlic, juice from 1/2 lime, vinegar, brown sugar and paprika in a sauce pan over medium-high heat.

Bring to a boil and let it cook down until syrupy, about 10 minutes. Here, I should note, you should be careful. Don't look for something that is too thick, because when the sauce cools down a little it will become much thicker. While you want it to be syrupy, it should also be thin enough to be spread over the chicken wings.

When the wings are done, remove from the oven and spread the glaze over them. Put the remaining glaze in a bowl.

Place the wings back in the oven for another 3-5 minutes until they are bubbling. Remove from the oven and at this point I toss them into the bowl with the remaining glaze to make sure all parts are covered in glaze.

Serve as you'd like, although the pineapple on the side makes for a good pairing.

Bon appetit!
Notes
Making perfect peri peri chicken wings is easy and fun! With the right sauce, they can be baked or fried to perfection. So get your friends together and have a party!
Baked Or Fried Chicken Wings?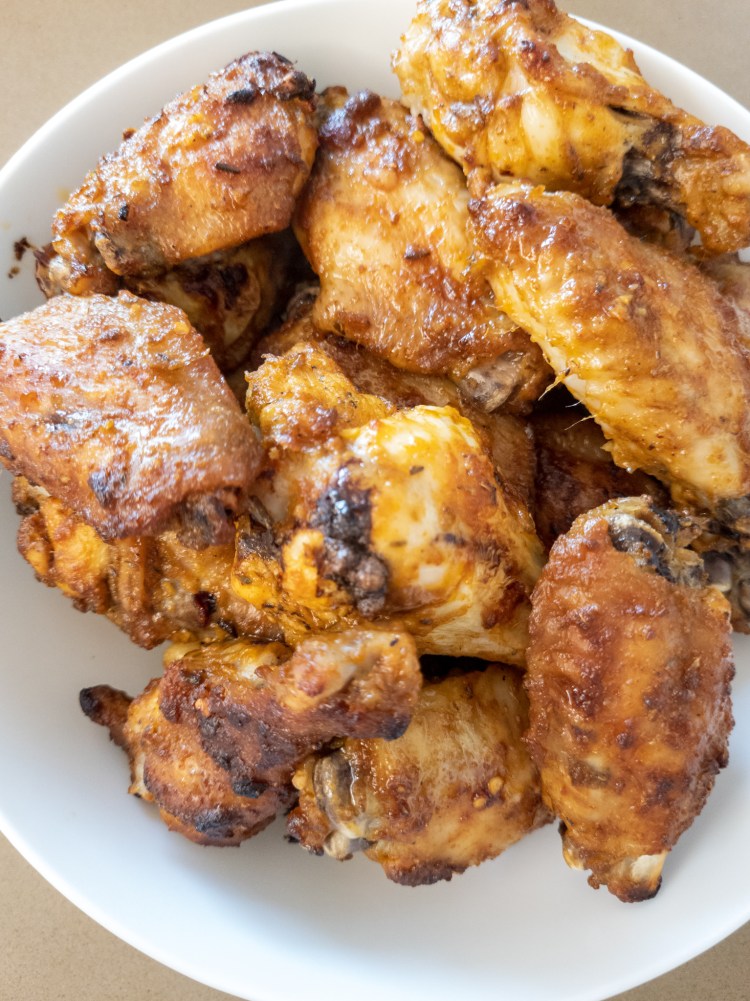 There's no question that chicken wings are one of the most popular foods around. They're easy to make and can be enjoyed in a variety of ways, from simple baked wings to intensely flavored fried chicken wings. Which is better? That's up to you!
Baked chicken wings are generally healthier than fried chicken wings because they don't contain any unhealthy fats or oils. They're also easier to make – all you need is some basic ingredients and a oven or stovetop. Fried chicken wings, on the other hand, tend to be more popular because they're packed with flavor. Popular flavors include Peri Peri & Pineapple Glazed Chicken Wings as well as BBQ & Honey Carolina Wings.
Which is better? That's up to you! Fried chicken wings are great for when you want something that's going to taste really good, but they're also more complicated to make than baked chicken wings. If you're just looking for something simple and easy, then baking is probably the way to go. However, if you want something that's going to knock your socks off, then fried chicken wings are definitely the way to go!
Easy Chicken Wings For A Party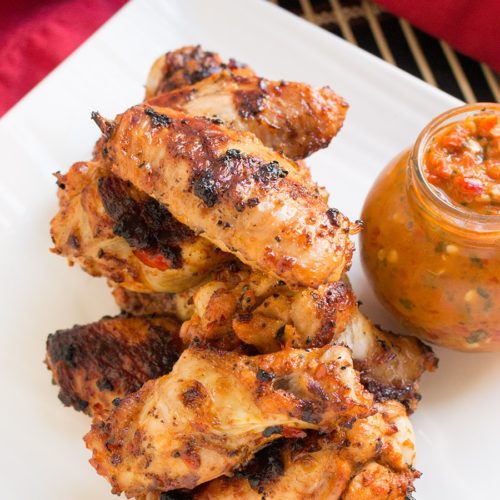 Are you planning a party and want to know the best way to serve chicken wings? Look no further! Our easy and delicious Peri Peri & Pineapple Glazed Chicken Wings will have your guests coming back for more. In just a few steps, you can have crispy and flavorful chicken wings that everyone will love.
1. Preheat your oven to 400 degrees Fahrenheit.
2. Coat your chicken wings in a combination of peri peri sauce and pineapple juice. Be sure to coat all of the wings evenly so that they are fully coated.
3. Place the chicken wings on a baking sheet and bake for 20 minutes, or until they are fully cooked through.
4. While the chicken wings are baking, make the dipping sauce by combining equal parts mayonnaise and hot sauce in a bowl or glass jar. Serve with your chicken wings when they come out of the oven!
5. For extra crispy chicken wings, place them on a wire rack after baking and turn them over once during their cooking time. Alternatively, you can air fry them using our Ultimate Chicken Wings recipe as your guide!
6-8. For those who want something a little spicier, try our Spicy Chicken Wings recipe instead!
9-10. And finally, if you're looking for something sweet and creamy (or both!), try our Baked Chicken Wings recipe – perfect for any occasion!