No family gathering is complete without preparing one of the most popular and tasty dishes in the United States. Of course, we are talking about Maine Lobster Mac and Cheese, also known as the preferred comfort food across the globe, and as the Lobster lovers that we are, we couldn't wait to share this delectable recipe to make the perfect combination of Lobster meat, pasta, and the main event, the mouth-watering cheese.
While it may have started as a trend in America, Maine Lobster Mac and Cheese has grown in popularity in recent years and has quickly spread throughout the country where you can find it anywhere from roadside diners and steakhouses, alongside the top 5 star restaurants with every chef giving it their unique twist to make their dish standout from the rest.
We recommend using this recipe as a main course, but you can also use it as a smaller dish for a starter like the original "Mac & Cheese".
The best thing about this recipe is that you can make it according to personal preferences, adding more quantities of a certain ingredient, choosing your favorite cheese brand, and even take an ingredient out if you are not a fan.
Paraphrasing the great Julia Child, "You simply can't have enough lobster."
Creating your version of this recipe isn't as complicated as you think, you don't have to be a Giada DeLaurentis or a Rachel Ray to do it.
After you see the tips we've prepared for you, everyone will be dying to know your secrets behind the perfect recipe for a national favorite.
Top cooking tips to make the perfect Maine lobster mac & cheese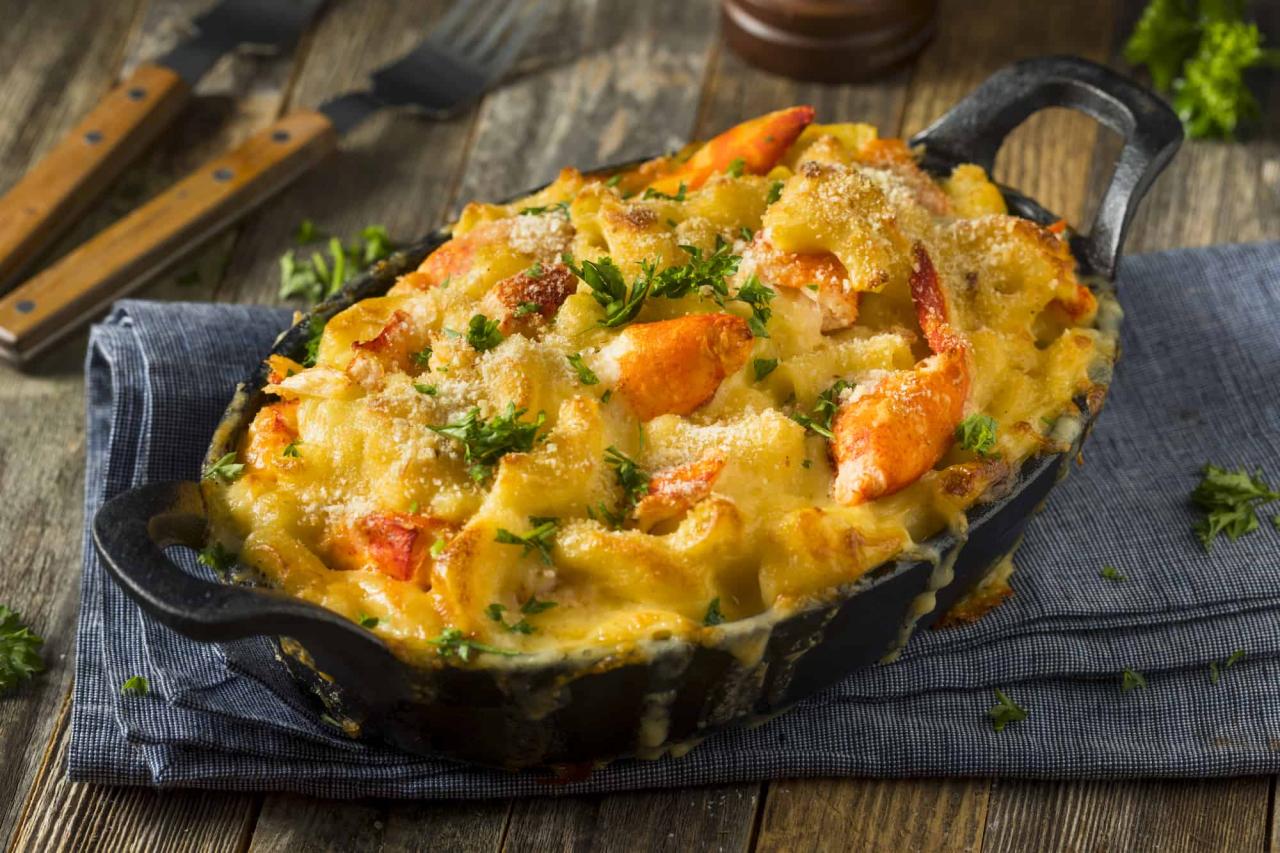 The first tip is about cooking methods.  You can either cook it on the stove or bake it in the oven.
For the latter, you'll need breadcrumbs to give it a crunchy touch and a nice, golden crust.
If you choose to bake it,  it can be prepared a day in advance. All you have to do is put it in the oven before serving. Easy!
Our second tip has to do with the Lobster meat. The great thing is you can use as much as you want. Anyone who loves Lobster will love this dish no matter what. We prefer to use frozen Lobster instead of fresh. This makes the cooking process much less stressful, and it also means you can make Lobster Mac n Cheese whenever you feel like it.
Make sure you pick the best one you can find. Believe it or not, you can order lobster online from Maine for a great price, without compromising on quality.
To cook the Lobster meat to perfection, first, you need to "blanch" it. This is a simple process where all you have to do is put the meat in boiling water and leave it for 2-3 minutes max. Make sure to time it, otherwise, you will overcook it and ruin the taste.
Our final tip is about carefully selecting the right pasta and cheese. Go for traditional macaroni (save the spaghetti for another dish), and make sure it has grooves – this way the cheese sauce will hold on. It may be tempting to buy a fancier pasta such as Linguine or Fettuccini but trust us, macaroni is the only way to go. For the greatest taste, cook your pasta "Al Dente." as the Italians do. which means it is not too soft, nor too hard, just a little chewy and firm.
When you decide on the cheese, unlike the traditional mac and cheese, the Lobster is the starring role, so you don't want to pick a cheese with a strong taste that will overpower the Lobster meat.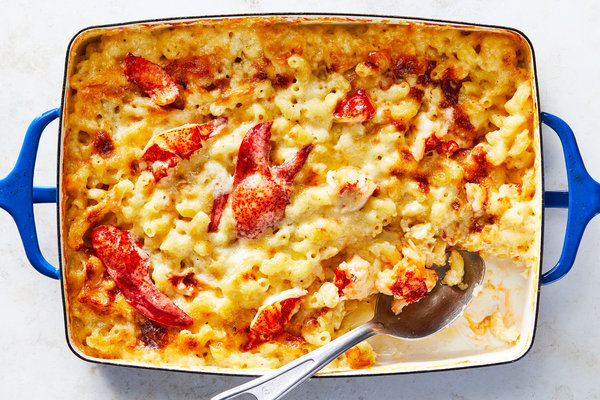 Maine lobster mac & cheese
If you're feeling particularly luxurious, why not up your mac and cheese game with this delectable Maine lobster mac & cheese
Ingredients
1

lb.

Lobster meat blanched or parboil

5

cups

of macaroni

2 1/2

cups

of milk

1

cup

of the cheese of your choosing shredded

we love Monterey Jack or you can try even a soft cheese like a garlic and herb Boursin

3

tablespoons

of brandy

1

shallot chopped finely brunoise.

2

garlic cloves minced.

1/4

cup

unsalted butter

1/2

cup

all-purpose flour

1

dry bay leaf

ground cayenne pepper

to taste

Salt and black pepper

to taste

1/2

cup

Breadrumbs

if baking in the oven
Instructions
Grab your favorite pasta pot, add water, salt and then let it boil. Once boiled, add the pasta, turn down the heat and let it simmer whilst it cooks.

Take it out once it has reached "al-dente" – the average time is around 7 minutes, but just keep checking to ensure you're not over-cooking or under-cooking the macaroni.

Drain the pasta and run it under cold water. Put it to one side for later.

Next, bring a new pan to the boiling point, and put the milk, bay leaf and chopped garlic in. Let it simmer for around 5 minutes. Remove from the pan and let it rest for approximately 15 minutes.

After 15 minutes, melt the butter, and the shallots and sauté in the same pan until they are fully mixed in together.

Add the flour and start whisking at a low temperature (this is key – do not turn up the stove high). Wait until the mixture gets a golden color, and then add the brandy.

And then it's time to add the previously mixed milk, bay leaf, and garlic. Whisk until all the ingredients are nicely bonded together. Let it cook for 10-15 minutes on a low/medium heat, and remember to whisk until the sauce has thickened.

The hard part has now been done. Simply add the seasonings (but hold the salt), add the Lobster and lastly, add the cheese and macaroni to stir in and bring all the ingredients together.

Is your mouth-watering yet?

For an extra twist, place the recipe in the oven for a stunning crispy Lobster Mac n Cheese.

– Preheat the oven to 220 °C

– Spread butter on your baking tray.

– Pour the Maine Lobster Mac and Cheese onto it and top it with breadcrumbs.

Bake for 20-25 minutes until the top is roasted. Make sure you don't burn the topping, and you're good to go!
Notes
After picking the best Lobster meat, the macaroni pasta, and the savory cheese, it's time to get busy and start cooking.