This is a deliciously creamy, sweet and spicy coconut chicken curry that will please any guest—as long as they can take the heat. For less spice, simply use less habanero (or switch to a different pepper).
I don't think there's anyone I've ever met who could resist the delicious taste of a good curry.
The combination of spices, often with a good amount of heat, the complex flavors—absolutely delicious.
The variety of curry dishes is so great around the world—not just in India and South East Asia, but also in Africa and the Caribbean. Each region has its own likes and dislikes, which means there's probably a curry recipe made just for  you.
For our family, we've created our own variety with a special ingredient: zucchini. While this is probably not in any "real" curry recipes, our family loves the combination of the chicken and zucchini simmering in that spicy sweet, creamy coconut sauce.
One thing that we do love, however, and which is very important is to make our own curry paste.
You could buy the curry powder or paste in a jar that they sell in stores, and I'm sure it would taste fine. But it wouldn't provide the depth of flavor you get from making your own paste.
Just add the pepper, ginger, garlic, tomato paste, mustard seed, spices (cumin, coriander, cayenne) and sauces (fish and soy) and blend together.
The result will definitely hit your nose hard, especially because we love the tropical spicy taste of habanero.
If you can't take the habanero heat, you could substitute that with about 2 chili peppers.
If you do like the habanero heat, you can choose to leave the seeds in (we're not that crazy) and see how it goes 🙂
When you add the paste to the pan with the rest of the ingredients, you'll see how amazing it is. Normally we use our stainless steel pan, but one of these highly-rated copper pans might work even better.
The result will be a beautifully yellow, spicy, creamy and sweet coconut chicken curry that looks and tastes absolutely delicious.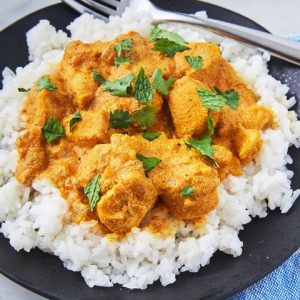 Sweet & Spicy Coconut Chicken Curry
This is a deliciously creamy, sweet and spicy coconut chicken curry that will please any guest—as long as they can take the heat. For less spice, simply use less habanero (or switch to a different pepper).
Ingredients
500

g

chicken breast

1

medium zucchini

1

tbsp

oil

2

tbsp

brown sugar

200

ml

coconut milk

1/2

tsp

salt

1/2

tsp

black pepper
Curry paste
1

fresh habanero pepper

seeded (with seeds for extra heat)

1

thumb-sized fresh ginger

3

garlic cloves

1

tbsp

tomato paste

1/2

tbsp

turmeric

1/2

tbsp

coriander

1/2

tbsp

cumin

1

tsp

mustard seeds

1

tbsp

chili powder

2

tbsp

fish sauce

2

tbsp

soy sauce

1

tbsp

lemon juice
Instructions
Chop the chicken breast into bite-sized pieces and sprinkle with the salt and pepper. Set aside while you make the curry paste and rice.

Optional: In order to make the rice, simply add 1 cup of basmati rice with 2 cups of water and a few pinches of salt. Bring it to a boil, cover, then immediately bring the heat down to low and cook for 20 minutes. After 20 minutes, turn off the heat and leave for a few minutes then fluff with a fork.

While the rice is boiling and chicken is resting, prepare the curry paste. Blend all the curry paste ingredients until relatively smooth.

Heat a pan over medium heat with a little oil. Add the chicken and 1/3 of the curry paste and cook for about 2 minutes. Stir in the rest of the paste and the diced zucchini, then add half of the coconut milk. Continue to cook and stir until the zucchini becomes soft, about 5 minutes.

Add the remaining coconut milk and mix well, then add the brown sugar. Increase the heat to medium-high and let it stew for 10 minutes, uncovered, until the sauce thickens.

Serve immediately with steamed rice.

Bon appetit!
Notes
Coconut chicken curry is a delicious and easy-to-make dish that will satisfy your cravings. It's perfect for a weekend dinner or a quick weeknight meal, and it can be easily adapted to your own taste. Be sure to follow our tips on how to make the perfect coconut chicken curry, so you can enjoy this fantastic dish any time!
The Secret To Making A Perfect Coconut Chicken Curry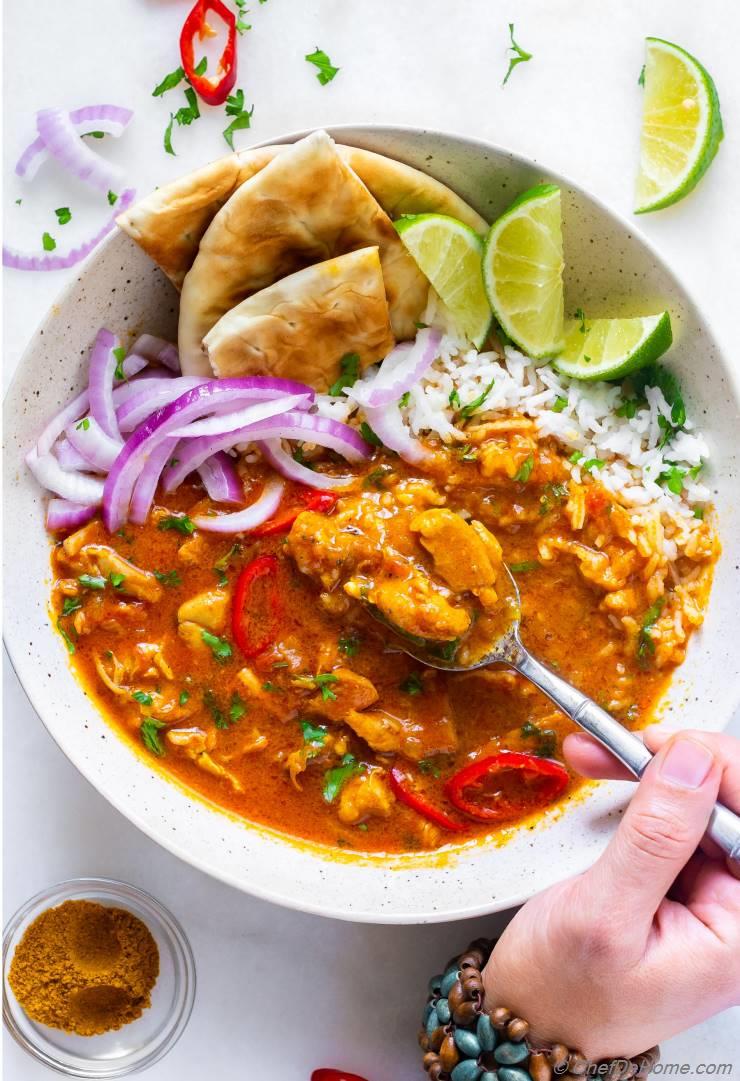 If you're looking for a delicious and hearty meal that will leave your family and friends begging for more, look no further than a coconut chicken curry. A perfect coconut chicken curry requires only a few key ingredients, so there's really no excuse not to make it. The secret to making this dish truly fantastic is all in the preparation. Follow these simple steps and you'll be able to create a dish that everyone will love.
To start, you'll need a good quality chicken curry paste. This is a mixture of spices that will give your dish its flavor and depth. Once you have this ingredient prepared, all you need to do is add it to a pan with some oil or butter. Once the fat has melted, begin adding in your chopped onions and garlic. Let these ingredients cook until they are softened, then add in your diced tomatoes and coconut milk. Bring the mixture to a simmer before adding in your cooked chicken breasts. Finally, stir in some fresh cilantro leaves and serve hot!
Tips For Making The Perfect Coconut Chicken Curry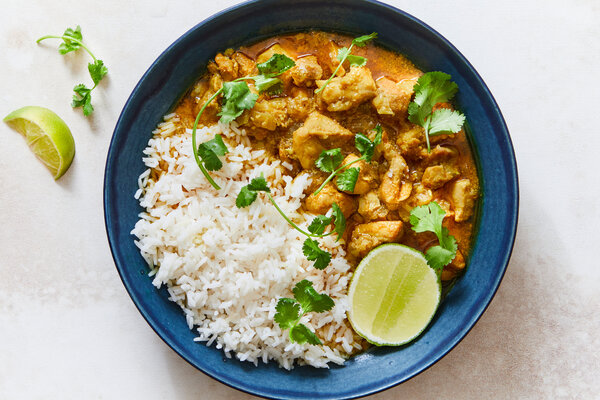 If you're looking for a delicious and healthy dish that's perfect for a weekend dinner, then look no further than Coconut Chicken Curry. This dish is easy to make and features fresh ingredients. Plus, it can be customized to your own taste by adjusting the spices and cooking time.
To make this dish even better, don't forget to toast the spices before adding them to the dish. This will add flavor and aroma to the curry. And finally, don't overcook the chicken – it should still be slightly pink in the center when done.
Common Mistakes People Make When Cooking Coconut Chicken Curry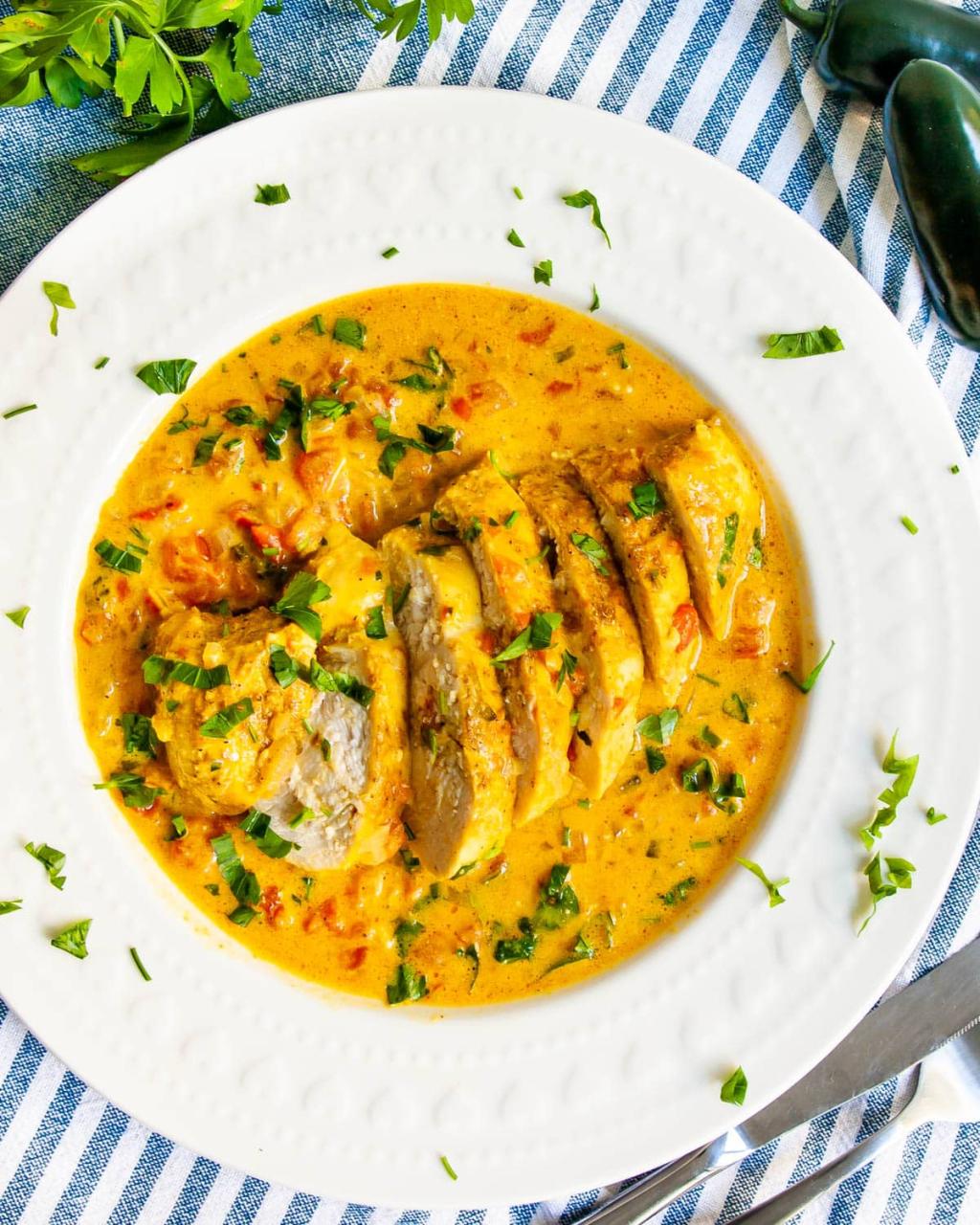 When cooking coconut chicken curry, it is important to use the right ingredients and techniques. Here are some common mistakes people make:
– Using too much oil. Coconut oil can be a great choice for this dish, but if you overuse it, your chicken will become greasy and oily. Use only enough oil to coat the chicken and vegetables.
– Not enough salt. The key to good coconut chicken curry is balance – both in terms of salt and spices. Too little salt will result in blandness while too much will overpower the flavors of the other ingredients. Use just enough to achieve the desired flavor profile.
– Not frying the chicken long enough. Frying Chicken Curry requires time – at least 20 minutes per side – so don't rush it! Undercooking or overcooking your chicken will result in dry, rubbery pieces instead of juicy ones that are perfect for this recipe.
– Forgetting to simmer the sauce. A good coconut chicken curry should have a thick, gravy-like sauce that simmers gently on low heat until everything is cooked through (about 15 minutes). Don't let it boil or form bubbles; that would indicate that it has boiled off and is no longer authentic coconut chicken curry style!
– Overcooking the vegetables can also ruin a good coconut chicken curry dish. Vegetables such as mushrooms or potatoes should be cooked until they are tender but not mushy; do not overcook them otherwise they will turn into soggy messes rather than crisp veggies bathed in delicious gravy!