These juicy, delicious and easy roasted turkey legs are great for guests or food for the weekend.
Roasted turkey always makes you feel festive in one way or another. It's the best for the weekend, especially after a long week like the one we've had.
If you're waiting for some special guests, if they're friends or family or somewhere in between, it's a great meal for sharing. Maybe that's what makes it so festive, the fact that the legs are probably just too big for one person to handle (except for Bernard of course) and so you just have to share.
This recipe today is simple but delicious, meaning that you get a lot of flavor by doing very little work. The secret here is to cook the turkey legs low and slow. Not the usual roasting temperature of 180°C, but even lower.
The other trick is to rest the legs on a bed of vegetables and herbs. This causes their flavor to soak into the turkey legs, making them not just juicy and falling off the bone, but also very tasty.
If you, like us, have a baby or young child to feed, or you would like to make this meal more healthy, you can cut out the gravy and just serve it with steamed vegetables, rice, or a sweet, tangy spinach pomegranate salad.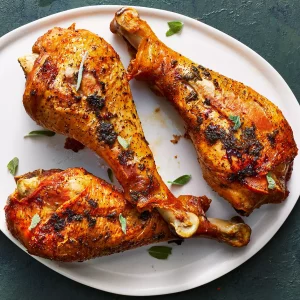 Roasted Turkey Legs
This roasted turkey legs recipe is the perfect way to impress your guests this holiday season! The key to perfectly roasted turkey legs is to first brine them in a salt water solution overnight. This will help to keep the legs juicy and flavorful. Then, simply roast the turkey legs in a preheated oven for about 2 hours. Be sure to baste them occasionally with some of the pan juices to keep them moist. When they're finished, the turkey legs should be golden brown and absolutely delicious!
Ingredients
4

turkey legs

3

stalks of celery

1

medium onion

3

medium purple carrots

4

cloves

garlic

crushed

1

leek

1

tablespoon

unsalted butter

1

sprig of rosemary

15

sage leaves

1

tablespoon

dried oregano

1/2

teaspoon

ground bay leaf

1

tablespoon

olive oil

1

chicken bouillon cube

salt and pepper to taste
For the gravy
50

ml

dry red wine

a squeeze of lemon juice

1

teaspoon

brown sugar

1

tablespoon

cream
Instructions
Preheat the oven to 140ˆ°C and place the rack in the middle of the oven.

Remove the turkey legs from the fridge and top with salt and pepper. Set aside.

Chop the vegetables (carrots, celery, leek, onion). Melt the butter in a pan over medium heat and add the vegetables, herbs and crushed garlic. Sautee until it becomes nice and soft. Add a little bit of boiled water and the bouillon cube, and let it stew for a few more minutes.

Put the vegetable mixture in the roasting pan and set it aside.

Heat the oil in another pan over medium heat and add in the turkey legs. Be careful not to crowd the pan. Fry the turkey legs in the pan for about 5 minutes each side until it is golden brown.

Place the turkey legs on top of the vegetable mixture and let it rest for a few minutes so that the turkey would absorb the flavor from the mixture.

Place the turkey in the oven and roast uncovered for 2 – 2 1/2 hours, until the meat is tender and falling from the bone. When it is done, remove from the oven. Transfer the turkey legs to a dish, covered with foil, and let it rest.

For the gravy, you'll need the pan juices, so strain the vegetable mixture and discard the vegetables. Add the juices to a saucepan over medium heat, and then add the wine. Let it boil to remove the alcohol. Add the lemon juice and brown sugar, and then mix in the cream.

If you'd like to make the gravy thicker, add some flour and whisk continuously to the desired thickness then remove from heat.

Now you are ready to put your turkey leg on the plate, covered in the delicious gravy, and sprinkled with chopped rosemary.
Notes
Serving Suggestions
When it comes to Thanksgiving dinner, there are endless possibilities for what to serve. Whether you're feeling traditional or want something a little more creative, our suggestions will have you covered.
For starters, serve your guests mashed potatoes and roasted vegetables. This is the classic Thanksgiving side dish, and it's always a hit. For something a bit more extravagant, try serving mashed potatoes with cranberry sauce and fresh parsley or thyme on top. If you want to go all out, try serving gravy or aioli as toppings! And finally, don't forget about dessert! Our maple glazed carrots are sure to satisfy any sweet tooth. Thanks for joining us for this delicious meal!
Why Dark Meat Is Better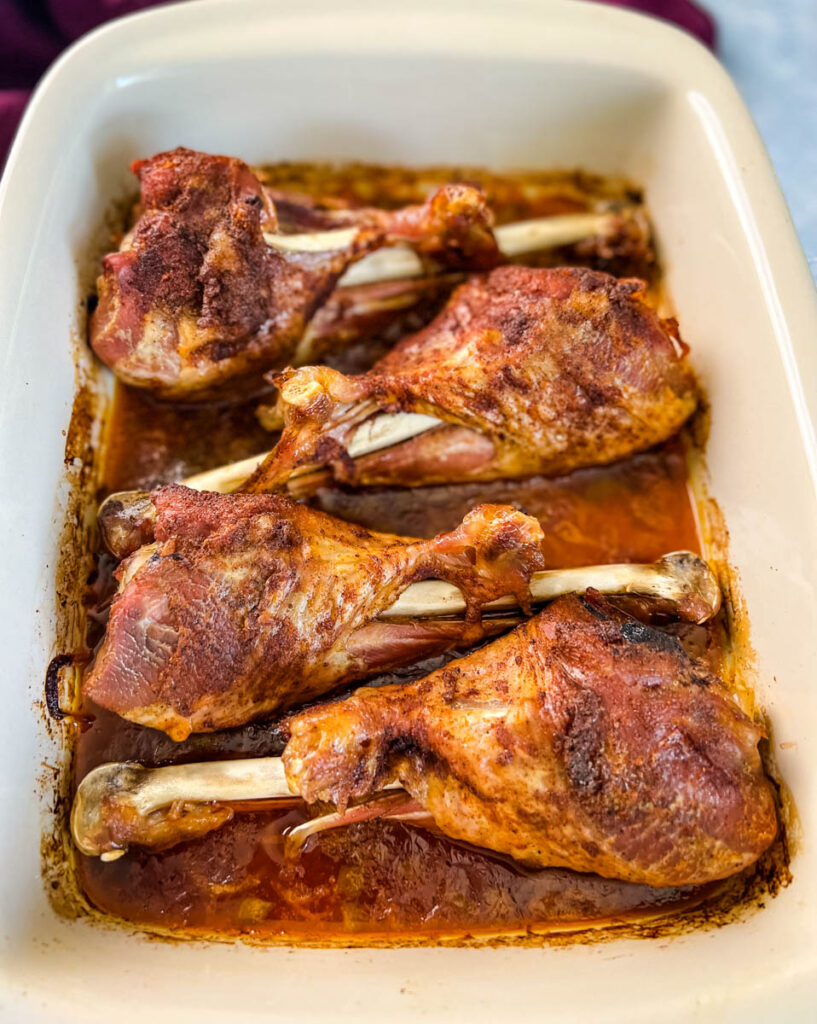 If you're looking for a Thanksgiving feast that will knock your socks off, try out the dark meat of the turkey leg! The dark meat is more flavorful than white meat and it's also juicier. In addition, dark meat has more fat which gives it even more flavor. Finally, dark meat is cheaper than white meat so you can get more food for your money. Thanks for giving this recipe a try!
Since dark meat is so flavorful and juicy, there are many ways to prepare it. You can grill it or bake it, for example. If you're looking for something a little different, try pan-frying it. This method results in a crispy exterior and a tender interior. Whatever you decide to do with your dark meat turkey leg, make sure to enjoy every bite!