This khachapuri-inspired spinach and cheese stuffed bread made from scratch looks impressive and tastes amazing. The soft and chewy spinach, mozzarella and feta stuffed bread will please any crowd.
Right off the bat, I should say that this is a khachapuri-inspired recipe, and therefore not 100% traditional.
Khachapuri is a very popular Georgian (the country, not the peach state) dish that is basically baked bread and cheese. It usually comes in its most popular form, which is in a boat shape with an egg cracked on top.
Here in Vilnius, I had the pleasure of going to a Georgian restaurant and eating a type of khachapuri called megruli khachapuri. Since then, I couldn't stop thinking about it and decided I'd try my hand at it.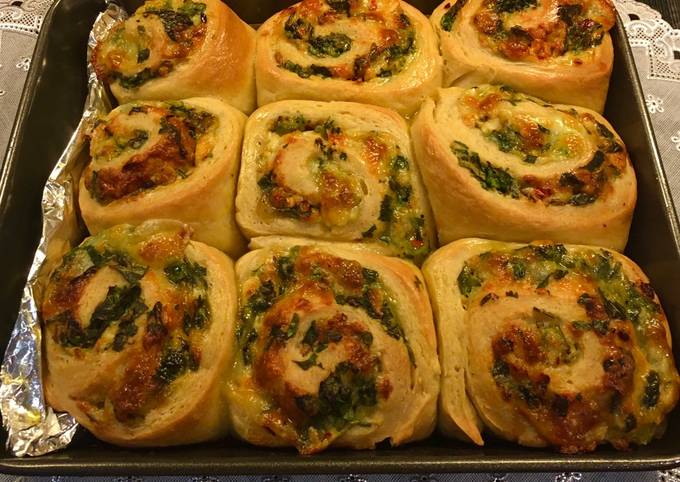 So I found an amazing recipe for authentic megruli khachapuri. Unfortunately, I couldn't find any Georgian cheese in the supermarkets here.
So, I decided if I couldn't use authentic cheese, then I'll just throw authenticity out the window and make my own version: spinach and cheese stuffed bread.
The first change was the filling. The original seems to be just cheese, butter and egg. However, I love the Greek flavors of spinach, feta and garlic, so I decided to add that with a heap of mozzarella to make the filling. I also was missing some salt in the original dough recipe, so I added it based on my pizza dough recipe.
Although there are quite a few steps, they simply boil down to: make the dough, make the filling, get the oven hot, put it in, take it out and eat.
While I did play with the recipe a bit, I can say that I'm very proud of the outcome. I mean come on, look at this baby right here:
One thing I loved particularly about this khachapuri-inspired recipe is the puffy rise of the bread and its deep golden color. It is amazingly impressive when it comes out of the oven.
You can make one large bread, like I did, or two medium ones from the amount of dough.
In order to get that color, you need to rub egg yolk on the outside "ridges." I imagine if you'd like a less brown color, you can add some egg white to the yolk or make a more traditional egg wash.
This is how the cheese stuffed bread looked before it went in the oven—a strong yellow rim with a cheesy middle:
I plopped it down on my hot pizza stone and this is the golden deliciousness after the 15-minute hot-oven bake:
The cheese was extremely melty and just oozed from both the topping and the filling:
Makes you want to eat your screen, huh?
OK, so without any further ado, let's see how you can make your own spinach and cheese stuffed bread—khachapuri style!
Serving Suggestions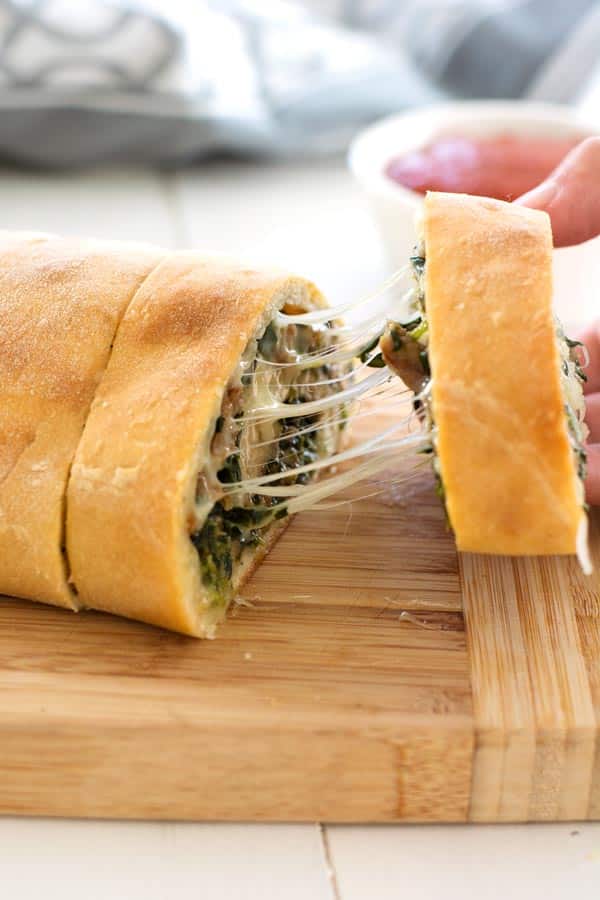 Serving suggestions can be enjoyed as a main dish with a side of soup or salad, or as an appetizer. They can also be cut into small squares and served cold or reheated. Servings suggestions are perfect for those times when you don't know what to make for dinner, but you want something delicious and satisfying.
Some of our favorite serving suggestions are:
-Baked salmon with vegetables and a lemon dill sauce. This dish is perfect for a romantic dinner or an elegant party. The salmon can be baked in the oven, then served with sautéed vegetables and a lemony sauce.
-Grilled chicken kebabs with tzatziki sauce. These kebabs are easy to make and packed full of flavor. They can be served as an appetizer or as a main course. They go great with rice pilaf and some steamed veggies on the side.
-Stuffed shells with marinara sauce. These shells are soft, cheesy, and delicious. They can be made ahead of time, which makes them ideal for those busy nights when you don't have time to cook everything from scratch. Just preheat your oven, fill the shells with your favorite marinara sauce, and bake until they're hot and bubbly.
Tips & Tricks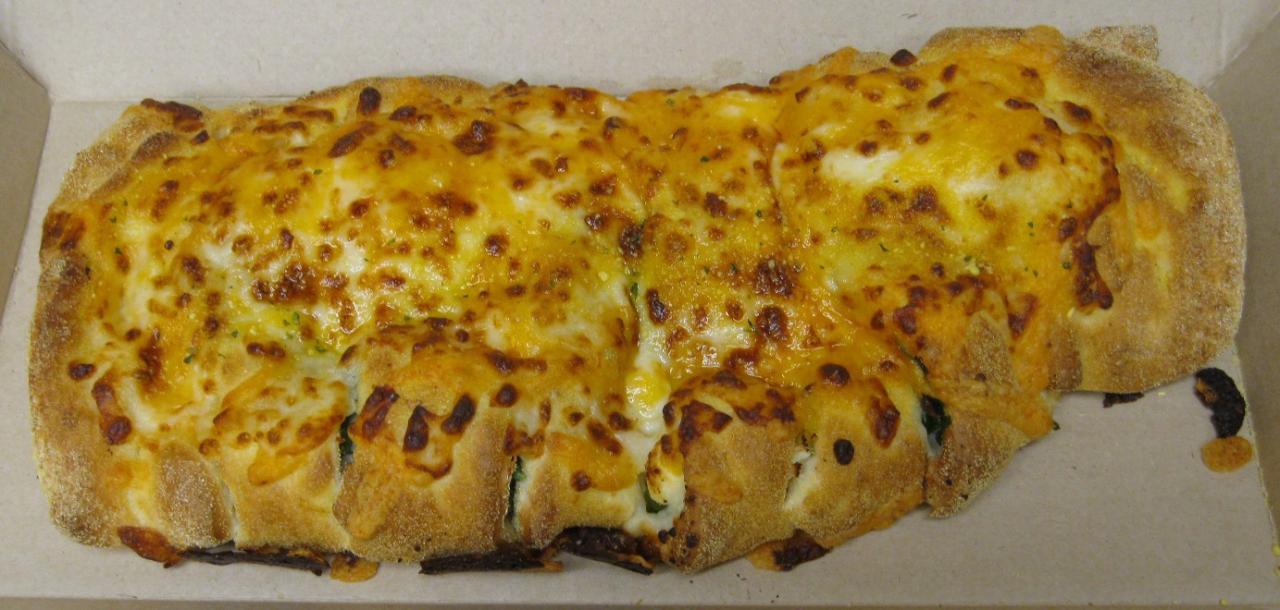 If you're looking for a fun, easy, and tasty dish to make at home, look no further than khachapuri. Khachapuri is a Georgian dish that can be enjoyed in many regional variations. In general, it's made of flour, water, yeast, salt, butter (or ghee), cheese (or other filling), and milk. The dough should be kneaded until it's elastic and smooth before allowing it to rise in a warm place for 30 minutes to 1 hour. Once it has doubled its size, shape it into a loaf and stuff with your desired filling. Bake at a high temperature until the bread is golden brown and the cheese is bubbly!
Here are some tips on how to make khachapuri perfect every time:
– Make sure your dough is kneaded well. Overkneading will result in a tough crust.
– Allow the dough to rise in a warm place for 30 minutes to 1 hour before shaping and baking. This will help ensure the texture of the bread is correct.
– Use quality ingredients when making khachapuri – cheap ingredients will not result in good tasting food!