Although I love sweet foods, I can't eat nearly as much as I would like, so I like to make a nice Spinach Pomegranate salad.
However, sometimes a standard and simple salad can be too boring for the weekends. That's why I made a salad that's sweet, tangy, and creamy.
Pomegranate is a great fruit to use in salads. It looks and tastes fantastic. The spinach balances out the tangy flavor of the pomegranate seeds, and the Gorgonzola cheese adds a creamy and slightly sweet touch. Add in some dried plums, flaked almonds and the sweet-tangy pomegranate dressing, and you've got a complex, delicious salad.
Even Bernard loves it 🙂
This salad is great with any meat or by itself for a quick lunch.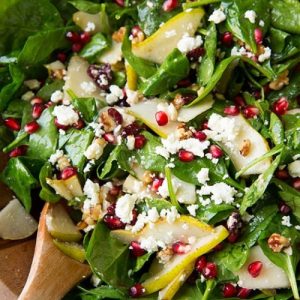 Spinach Pomegranate salad recipe
This salad is a perfect blend of sweet and savory flavors. The pomegranate seeds add a pop of sweetness, while the spinach and feta provide a savory contrast. This salad is also packed with nutrients, making it a healthy and filling option for any meal.
Ingredients
For the salad:
200

g

baby spinach

50

g

Gorgonzola

seeds from 1/2 large pomegranate

25

g

flaked almonds

50

g

dried plums
For the pomegranate dressing:
juice from 1/2 large pomegranate

1

teaspoon

honey

juice from 1 lemon

1

tablespoon

Balsamic vinegar

pepper to taste
Instructions
This one should be very easy.

First of all, soak the dried plums in 1 cup of hot water for 5 minutes.

Wash and dry the spinach, preferably with a salad spinner and place it in a large bowl. Cut the pomegranate in half. We'll use the seeds from one half for the salad, and the other half we'll squeeze for the dressing. Put the pomegranate seeds in the bowl with the spinach.

Crumble the Gorgonzola cheese and add it to the spinach and Gorgonzola. Remove the plums from the water, dry and slice them. Add them to the bowl.

For the dressing, mix all the dressing ingredients in a separate small bowl. Drizzle over the spinach, pomegranate and Gorgonzola salad. Top with the flaked almonds and serve.
Notes
This Spinach Pomegranate salad is a wonderfully healthy and flavorful dish. It is packed with nutrient-rich ingredients like spinach, pomegranate, and almonds, and is tossed in a light and refreshing vinaigrette. This salad is perfect for a light lunch or as a side dish at your next gathering.
Serving Suggestions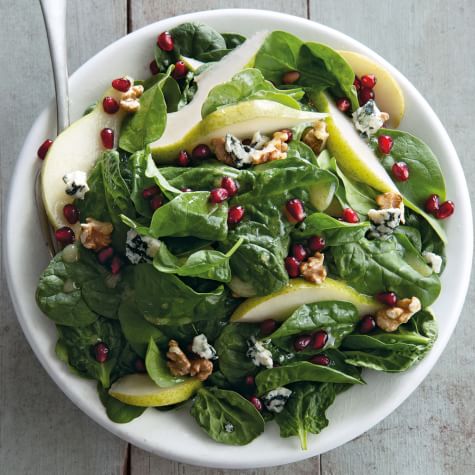 Salad recipes are a staple in any kitchen and can be enjoyed by everyone from the most experienced chef to the most novice cook. One of the best things about salads is that they are customizable to fit any taste or dietary need, making them perfect for serving as a side dish or main course.
One of the biggest benefits of salads is that they can be paired with virtually anything, meaning you can create a salad that fits your own personal tastes and dietary needs. For example, you could pair this salad with grilled chicken or fish for a complete meal. Alternatively, you could add some crusty bread on the side to mop up all of those delicious dressing juices!
Salads also make an excellent choice for making ahead of time – just make sure to store them in an airtight container so that they stay fresh and tasty until you're ready to eat them.
Here are a few more tips that will help you make the most of salads:
-Choose your ingredients carefully: Different types of lettuce, fruits and vegetables can lend different flavors and textures to your salad. Make sure to select ingredients that will complement one another.
-Always dress your salad before serving: This not only adds flavor but also helps to keep the greens fresh and crisp. Try a variety of dressing recipes or use store-bought versions as a starting point.
-Serve your salad on a plate or in small bowls: This allows guests to customize their salads however they like and avoids making them feel overwhelmed by an abundance of food on their plates.
Wine Recommendations
When pairing wine and food, it is important to consider a variety of factors. These include the type of wine, the food itself, and the occasion. In this section, we will discuss the best white wines for Spinach Pomegranate Salad and the best red wines for spinach pomegranate salad.
Best White Wines for Spinach Pomegranate Salad
For a simple yet elegant salad like spinach pomegranate salad, try a dry white wine such as Chardonnay or Riesling. Both are light and crisp, making them perfect choices for this dish. Another good option is Sancerre from France; it has floral aromas and flavors that perfectly complement the sweetness of the fruit in the salad.
Best Red Wines for Spinach Pomegranate Salad
If you want something a little more robust, try a bolder red wine such as Cabernet Sauvignon or Merlot. These wines have deep notes of berry that will be delicious with the tartness of the fruit in the salad. If you're looking for something less expensive but just as tasty, consider Zinfandel from California or Sangiovese from Italy. Both wines have intense flavor profiles that will enhance your spinach pomegranate salad experience!
Tips & Tricks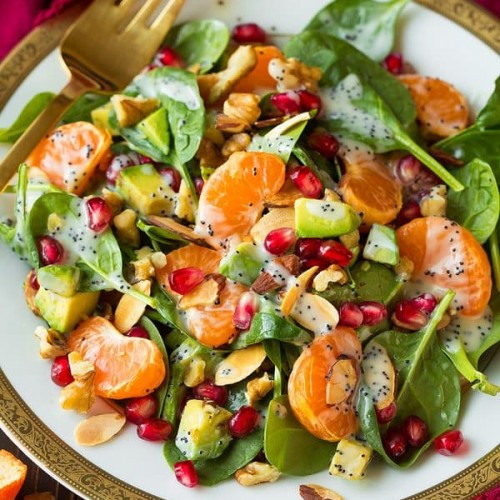 Choosing the right spinach leaves can be a challenge, but with these tips it will be a breeze! Chopping fresh pomegranate seeds is also a skill that takes some practice, but with these helpful tips it will become a breeze. Finally, this salad recipe features dried plums which add an interesting texture and flavor to the dish.
When choosing spinach leaves, always make sure they are fresh. Frozen spinach is fine, but it will not have the same flavor and texture as fresh spinach. To chop fresh pomegranate seeds, start by removing the seed from the center of the fruit. After removing the seed, use a sharp knife to cut the fruit in half so that you have two semi-circular pieces. Next, take one of the semi-circular pieces and cut it into thin strips. Finally, turn these strips so that they are all oriented in one direction and chop them into small pieces.
To remove dried plums from their pit, start by cutting off one end of the plum with a sharp knife. Then use your fingers to split open the plum along this end until you reach the pit inside. Once you have removed the pit, slice each plum into thin pieces using a sharp knife.