These crispy Lithuanian waffles are made perfect with the fantastic dulce de leche cream filling made with a hint of liqueur.
This is one of my favorite dishes. A dish that reminds me of the way the kitchen smelled when my grandmother made these waffles (just like Bernard with his family's samosas).
But not just any waffles—these are made with the old, Soviet-style waffle maker that's hard to find nowadays.
Of course, there are much more modern, perhaps even better waffle makers than the heavy one that my grandmother had. And maybe they're even easier to use.
But they just don't make the same type of waffles. I remember coming into my grandmother's kitchen, opening the cupboard and finding these delicious beauties like little hidden treasures!
That's why, with my 87-year-old grandmother's approval and blessing, I decided to try to make these crispy waffles with the dulce de leche filling to try and bring back those old memories and perhaps make some new ones with my own family.
This recipe has so far never been written down, and heavily guarded by my grandmother. I'm sure when you try these you'll love them just as much as I do!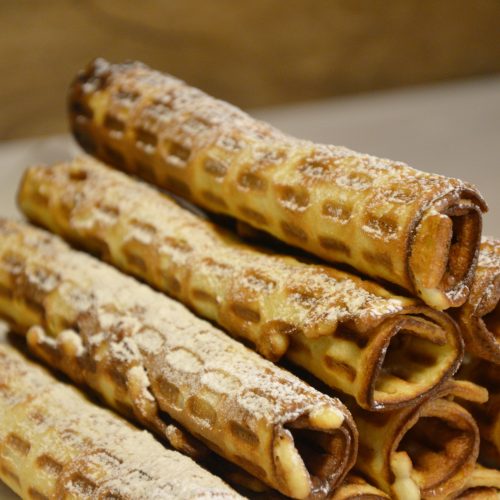 Crispy Lithuanian Waffles
Lithuanian waffles, or kukingam, are a delicious treat that originates from Lithuania. They are made with a yeast-risen batter and are usually filled with dulce de leche cream. These waffles are crispy on the outside and fluffy on the inside, making them the perfect breakfast or dessert.
Ingredients
For the waffles
6

eggs

200

g

butter

200

g

sugar

1

tsp

vanilla essence

1

cup

flour

1

tsp

baking powder

1

tsp

creamy liqueur

such as Advocat
For the dulce de leche filling
2

cans condensed milk

200

g

butter

room temperature

2

tsp

creamy liqueur
Instructions
Boil 2 cans of sweetened condensed milk over medium heat for about 2.5 hours. Afterwards, set aside to cool.

Preheat the waffle.

Melt butter in a large bowl and put aside. Beat the sugar and eggs well (without separating them). Add the egg-sugar mixture to the melted butter, along with a teaspoon liqueur (or brandy) and beat everything together very well (you can use a mixer).

Mix the baking powder and the cup of flour. Slow mix flour to the mixture, whisking constantly until smooth.

On the heated waffle, add a large tablespoon of dough, close the waffle maker and bake until browned. Very quickly roll the waffles into tubes while they're still hot because later they will be too fragile to shape. To reduce the chance of burning your hand, you can use clean, disposable kitchen gloves.

For the filling, mix the cooled boiled sweetened condensed milk (the dulce de leche) very well with the room temperature butter and a couple of teaspoons of liqueur.

Stuff the cooled wafers with the filling using a pastry bag, or if you don't have that on hand, just a small bag with one corner cut off.

Enjoy!
Notes
In conclusion, Lithuanian waffles are a delicious and easy-to-make recipe that is perfect for any occasion. By following the tips and tricks in this blog post, you can make the perfect Lithuanian waffle every time. You can also vary the classic recipe by adding different fillings or toppings. So what are you waiting for? Get cooking!
Waffle Making Tips And Tricks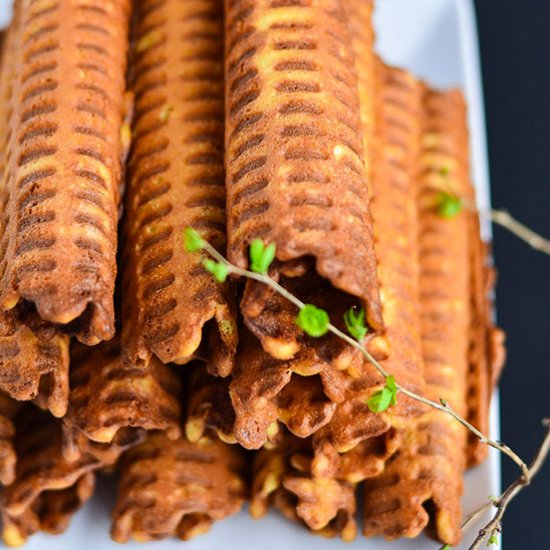 Waffle making is a great way to use up leftover batter or ingredients. There are many different ways to make waffles, and each one produces a unique flavor and texture. In this section, we will provide you with tips and tricks for making perfect waffles every time.
First, we recommend using a non-stick pan. This will help to prevent the waffles from sticking to the pan and becoming difficult to flip.
Second, make sure you have well-mixed batter before adding any ingredients. By doing this, your waffles will be light and fluffy, without any lumps.
Third, put the egg in the center of the flour mixture before folding in the butter until smooth. This step ensures that your waffle recipe is both gluten free and dairy free – two important considerations when it comes to veganism! Finally, cook your waffles according to your desired temperature setting either in a preheated oven or on a griddle over medium heat. Enjoy!
FAQ's About Lithuanian Waffles
Making Lithuanian waffles is a simple process that can be completed in just minutes. The ingredients required are flour, sugar, eggs, and baking powder. This recipe yields four waffles, but you can easily double or triple the recipe to make more.
Lithuanian waffles are made with a type of flour called "rye bread flour". Rye bread flour has a high protein content which gives the waffles their crispy texture. Additionally, rye bread flour contains gluten which helps to create a strong dough.
Some popular fillings for Lithuanian waffles include whipped cream, strawberries, or blueberries. It's also common to top them off with maple syrup or honey for added sweetness and flavor.
If you're new to making Lithuanian waffles, it's important to follow the recipe carefully. The waffle maker will not work correctly if the batter is not evenly distributed. Additionally, be sure to preheat your oven before baking the waffles so that they become crispy and golden brown.
When it comes to flavor, there is no one definitive way to make Lithuanian waffles. Some people prefer them savory with a pat of butter or bacon on top, while others enjoy a sweet treat with strawberries or blueberries inside. Feel free to experiment with different ingredients and toppings until you find something that you love!