This lemon and caper baked chicken is made flavorful by the lemon, capers and garlic, and juicy from the chicken broth. A quick weeknight dinner that takes just 45 minutes in total.
As most people out there, with or without children, you sometimes don't want to spend hours in the kitchen for an amazing but time-consuming meal. Sometimes you want delicious food that's fast and requires little work.
Well, ladies and gentlemen, I present to your our lemon and caper baked chicken. It is quite tasty, with the sharp lemon and garlic, salty capers, and flavorful chicken broth. Only half of the chicken is covered by the chicken broth, so you get the crispy chicken with the moist meat.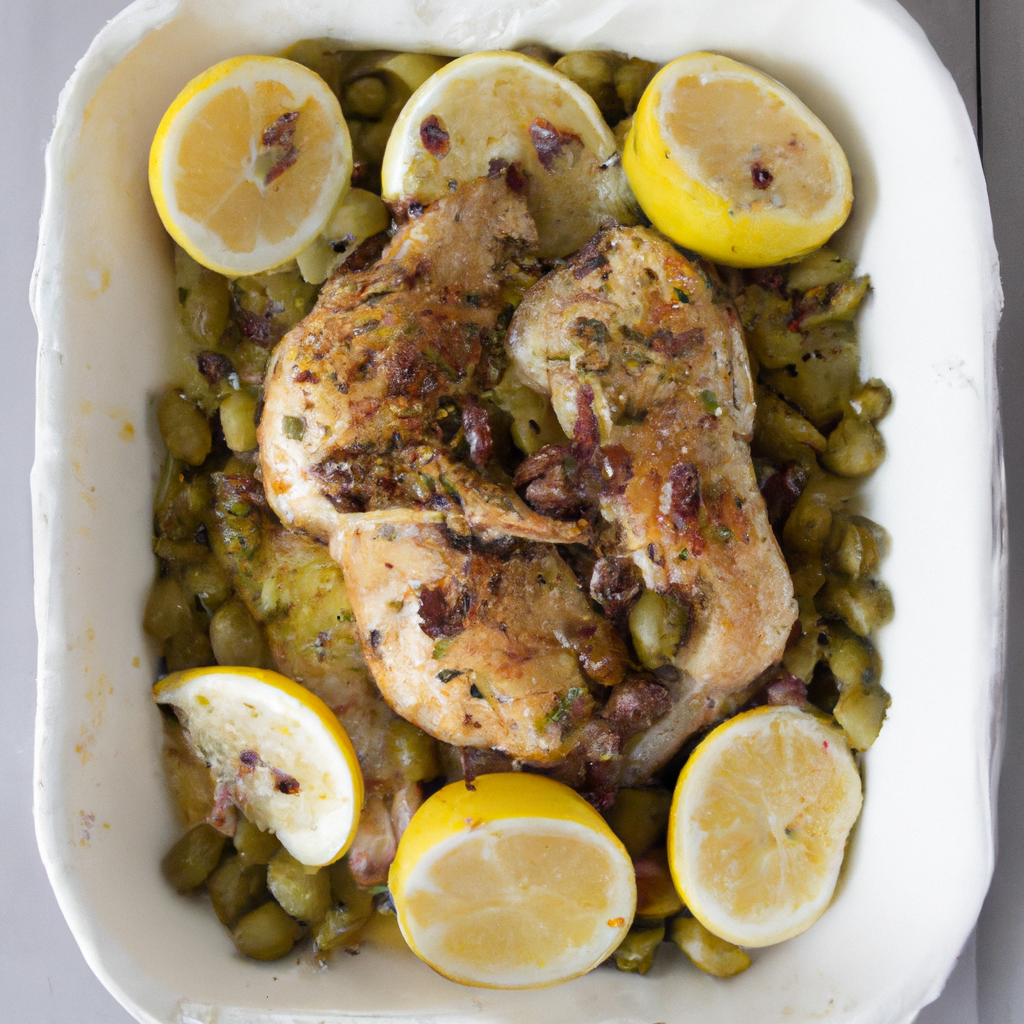 Lemon and Caper Baked Chicken
Looking for a flavorful, yet healthy chicken recipe? Look no further than this lemon and caper baked chicken! Made with just a few simple ingredients, this chicken is packed with flavor and is sure to be a hit with the whole family. Plus, it's baked in the oven, so it's a healthier option than fried chicken. Give this recipe a try tonight and see for yourself how delicious healthy can be!
Ingredients
4

chicken legs

6

chicken wings

3

tablespoons

butter

melted

7

cloves

garlic

chopped

1/2

lemon

sliced

3

tablespoons

capers

1

cup

chicken broth

1/2

teaspoon

salt

1/2

teaspoon

black pepper

parsley for garnish
Instructions
Preheat the oven to 200°C with a rack placed in the center.

Pat the chicken dry and place it in a baking tray. This can be made with any kind of chicken; we only had legs and wings, so that's what we used. Brush the butter on the tops of the chicken, then sprinkle on salt and pepper. The butter will ensure a crispy skin (alternatively, to be healthier, you can brush olive oil on top, although the taste will obviously be different). Now place the slices of lemon around the chicken pieces. Do not place any on top of the chicken; you want to keep the tops dry so that the skin crisps up nicely.

Now for the chicken broth. The best kind of chicken broth is the homemade kind. That way, you can control the flavors, and especially the salt. I find that most store-bought chicken broth is too salty. Today we used less than one chicken bouillon cube in 1 cup of water, which is supposed to equal 1 cup of chicken broth.

Because you want the chicken to be crispy, be careful not to get the liquid on top of the chicken. Carefully pour it in between the chicken. If some falls on the top, pat it dry then reapply the butter. After you've poured in the chicken broth, sprinkle the capers and chopped garlic over and around the chicken.

The oven should be ready by now, so put it the chicken in for about 30 minutes. At that point, if the chicken doesn't look brown and crispy, turn on the broil and let it go for another 5 minutes, until it reaches the color that you'd like. The inside will be done, unless your chicken pieces are large. If you are using chicken quarters instead of separate pieces of legs and thighs, probably add another 10 – 15 minutes baking time.

Remove chicken from oven, let rest for at least 5 minutes, and then dive in!
Notes
This recipe for lemon and caper baked chicken is an easy and delicious way to prepare chicken for a weeknight meal. The chicken is first marinated in a mixture of lemon juice, garlic, and herbs, then baked in the oven until it is cooked through. The lemon and caper sauce is then spooned over the chicken before serving. This dish is best served with a side of rice or potatoes and a green vegetable.
Some tips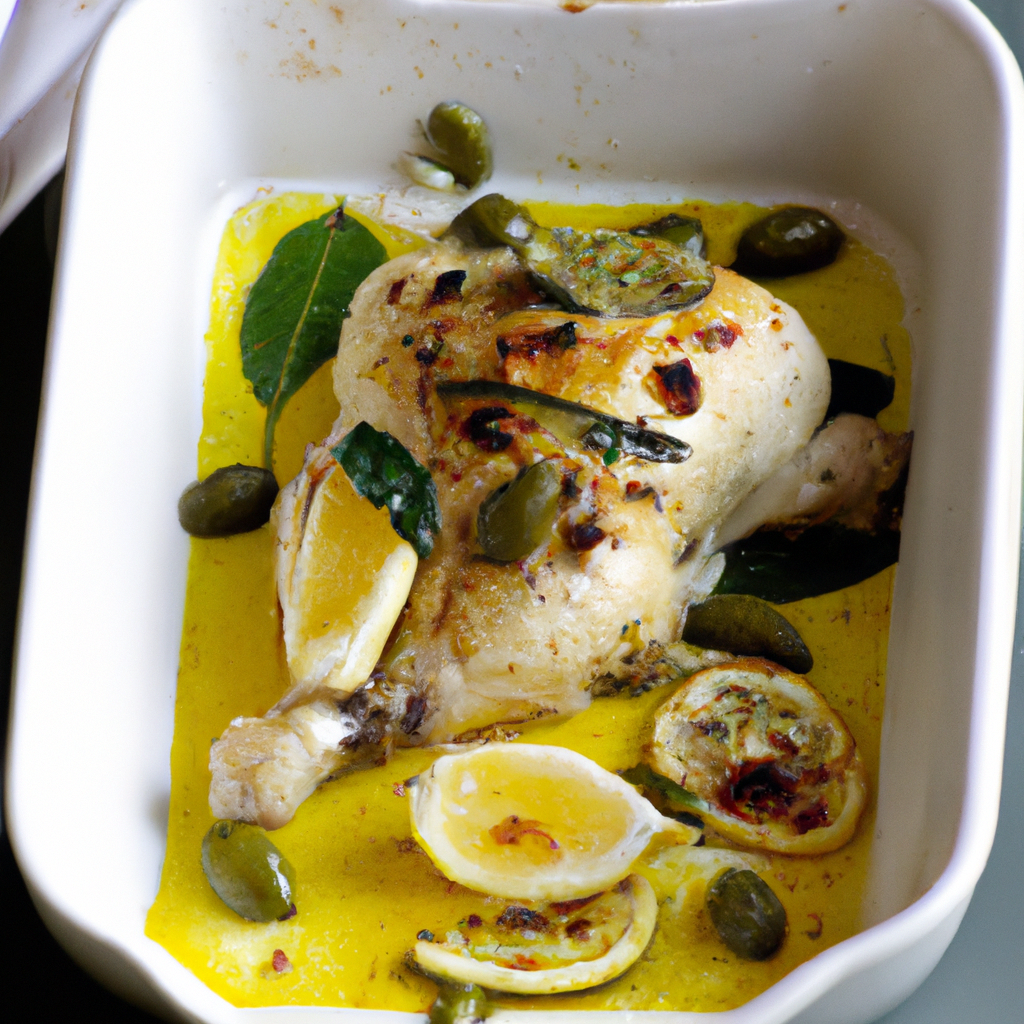 How to Serve:
1. Serve the chicken with cooked vegetables or a side salad.
2. Serve with cooked white or brown rice, quinoa, or your favorite grain.
3. For a low-carb option, serve alongside roasted cauliflower, broccoli, or Brussels sprouts.
4. For a light meal, serve with a simple side of steamed asparagus or green beans.
How to Storage:
1. Store leftover chicken in an airtight container in the refrigerator for up to 3 days.
2. This chicken is best eaten within a few days of cooking for the best flavor and texture.
How to Freeze:
1. Place cooked chicken in a freezer-safe container and store in the freezer for up to 3 months.
2. To thaw, place in the refrigerator overnight or until completely thawed.
How to Reheat:
1. Reheat in the oven at 350°F until the chicken is heated through and reaches an internal temperature of 165°F.
2. Alternatively, microwave in 30-second intervals until the chicken is heated through.
Tips for Making More Nutritious:
1. Use skin-on chicken thighs for more flavor and added nutrition.
2. Use fresh lemon juice instead of bottled juice for a brighter flavor.
3. Substitute the butter with olive oil for a healthier alternative.
4. Add other herbs and spices like paprika, garlic powder, or oregano for more flavor.
Calories in this Recipe: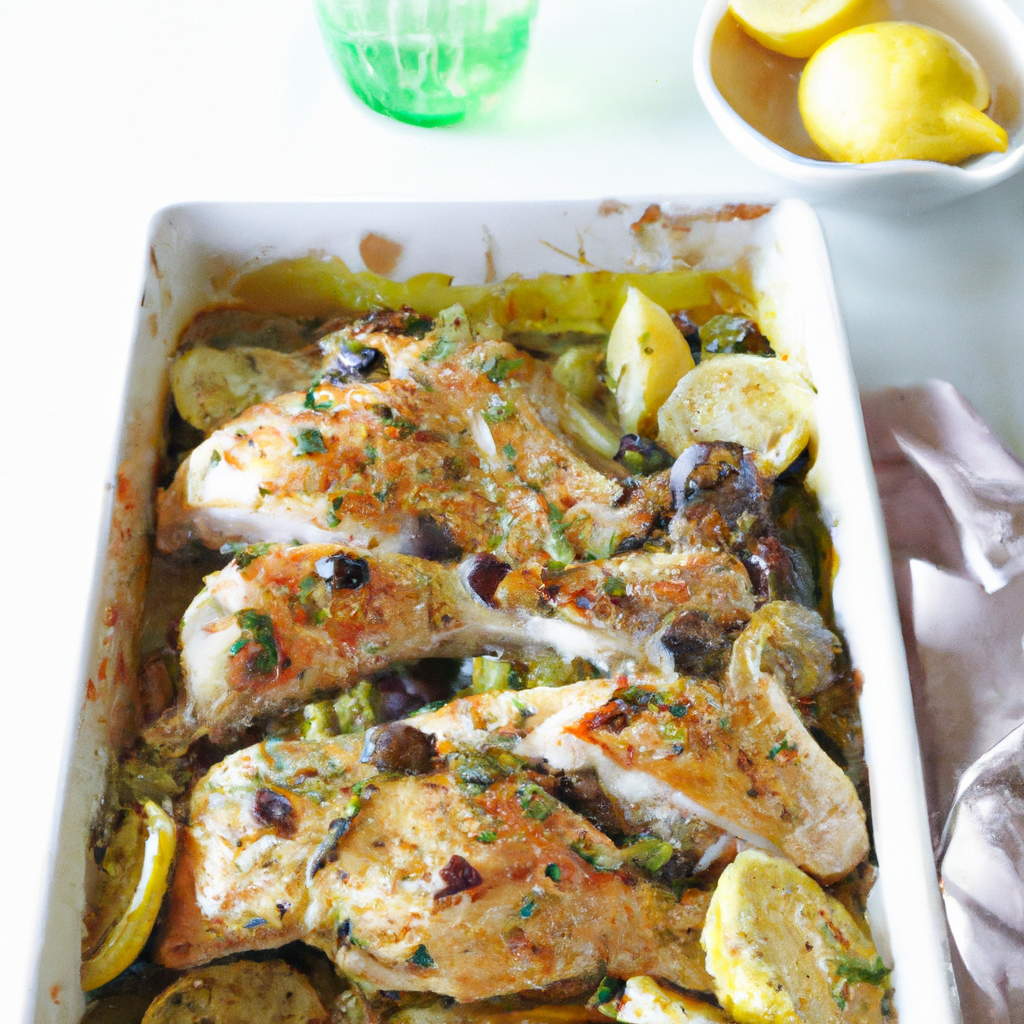 1. Each serving of this lemon and caper baked chicken contains approximately 320 calories.
2. The calories can be reduced by using skinless chicken thighs and reducing the amount of butter used.
Variations On A Classic Recipe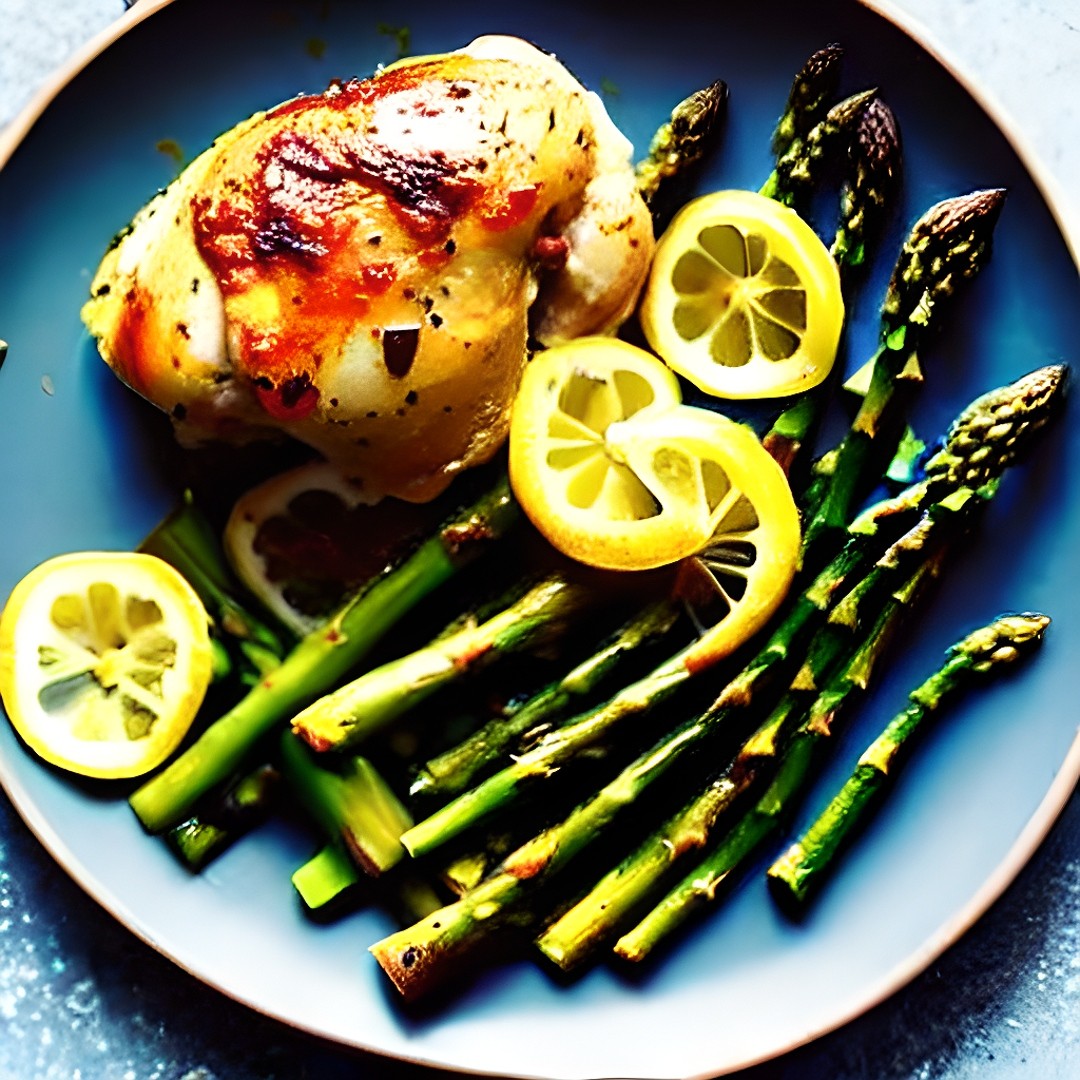 If you're looking for a delicious and easy chicken dish, you should try this variation on a classic recipe. All you need are boneless, skinless chicken breasts and some simple ingredients. If you want to add a little more flavor, lemon wedges are a great choice. For added crunch, try topping the chicken with capers before baking.
This recipe can be made with other types of chicken as well – just adjust the baking time accordingly. So, whether you're in the mood for something light and refreshing, or hearty and savory, this recipe has something for everyone!
Depending on the size of your chicken breasts, baking time will vary. For small chicken breasts, bake for approximately 25 minutes, while larger chicken breasts will require up to 40 minutes in the oven.
Once the chicken is cooked through, remove it from the oven and let it rest for 5-10 minutes before serving. This allows the juices to redistribute throughout the poultry and makes it easier to slice into uniform pieces. Serve warm or at room temperature, topped with lemon wedges if desired. Enjoy!
FAQs About This Dish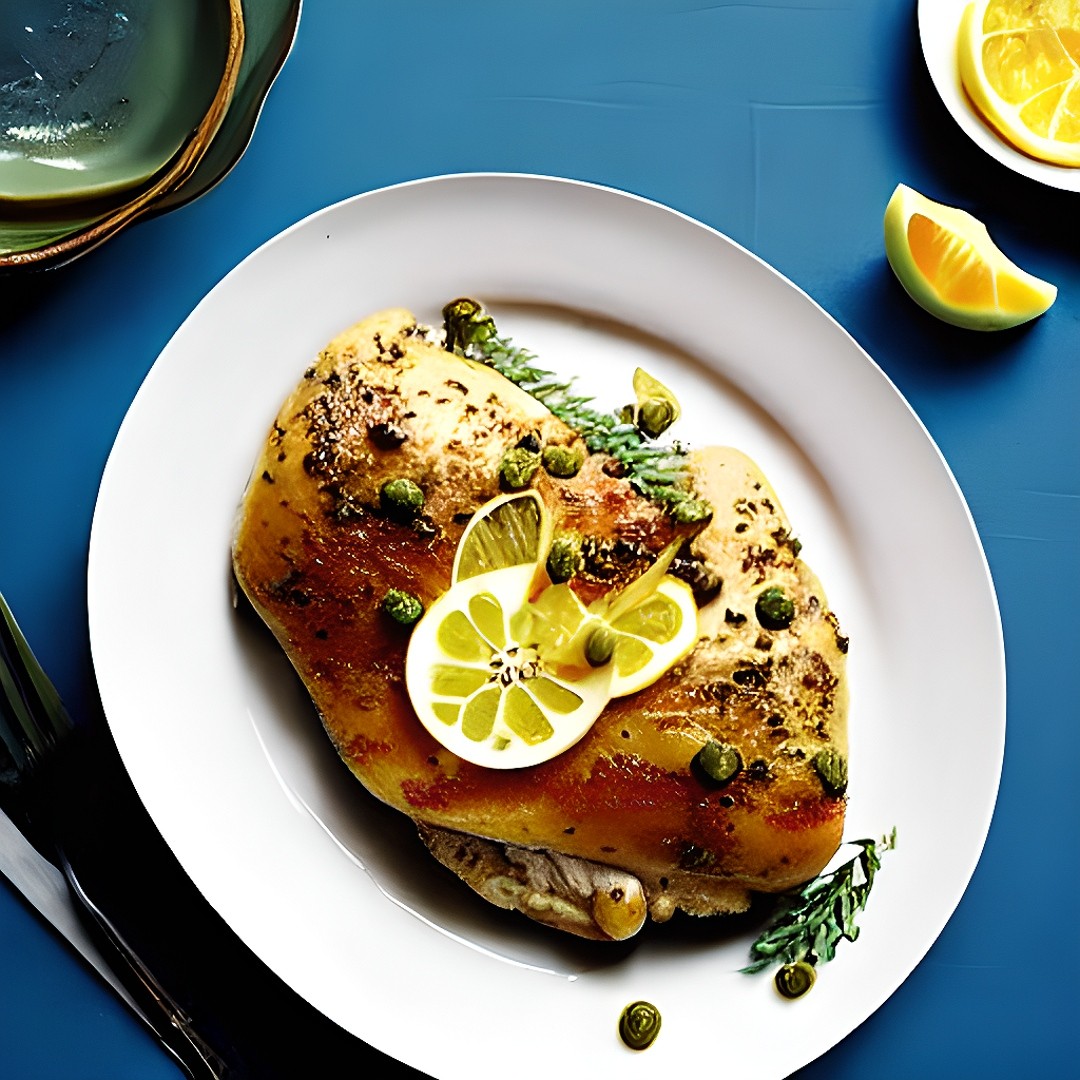 This dish is called Peking duck and it is a popular Chinese dish. The ingredients for this dish include duck, soy sauce, rice wine, sugar, and Sichuan peppercorns. It is generally cooked in a clay oven over an open flame.
To make Peking duck, you will first need to acquire a duck. You can either buy a whole duck or cut it into parts (legs, breast, etc). Once you have acquired your duck, the next step is to season it with soy sauce, rice wine vinegar, sugar, and Sichuan peppercorns. Make sure that the seasoning is evenly distributed throughout the bird by rubbing it into its skin and bones.
Once your bird is seasoned, place it in a baking dish and cover it with additional soy sauce mixture. Next, pour hot water into the dish until the water comes halfway up the sides of the duck. Bake in an oven at 300 degrees Fahrenheit for about 1-1/2 hours or until the meat reaches an internal temperature of 165 degrees Fahrenheit.
Peking Duck can be served with steamed rice or other side dishes (such as vegetables). It can also be served cold if desired. Cooking time for this dish typically ranges from 45-60 minutes depending on how large your bird is and how well prepared it is prior to cooking.