This easy, 15-minute tiramisu will leave your guests wowed in no time. Get all of the flavors of a traditional tiramisu with only a 10th of the work.
There are a lot of origin stories written about tiramisu: some believe that it was first made in honor of Italian Grand Duke Cosimo III in the 17th century in Tuscany. Others say that the dessert was mentioned for the first time in Giovanni Capnist's book I Dolci del Veneto in 1983. A similar layered Tuscan dessert exists known as "Zuppa Inglese" (meaning "English soup," although it has nothing to do with either the English or soup). But which of these or still many other origin versions is the true one is hard to say.
However, tiramisu is both a late "discovery," but also a true king of desserts. And not unnecessarily… "tiramisu" translated from Italian means "pick me up" or "cheer me up." And because of its rich composition (egg yolks with sugar) and the caffeine contained in it from espresso, it leaves every coffee lover satisfied.
For our easy tiramisu, we're using our favorite Caprissimo Espresso coffee beans from The Coffee Mate — it's rich, strong and absolutely delicious.
The classic tiramisu recipe definitely has a lot of calories — fatty sour cream, mascarpone, and of course the egg yolks and sugar… So, with all respect for the traditional tiramisu (which, by the way, we adore), we're offering a "less sinful" but also extremely delicious and much easier-to-prepare version of tiramisu without eggs.
Our recipe contains no eggs or fatty sour cream, and we're substituting the mascarpone, which has as much as 82% fat, to Philadelphia cream cheese, with a fat content of only 22%. And most importantly, you can have this dessert prepared in just 15 minutes! Even better, it's served in nice little jars, making both presentation and cleanup pretty easy.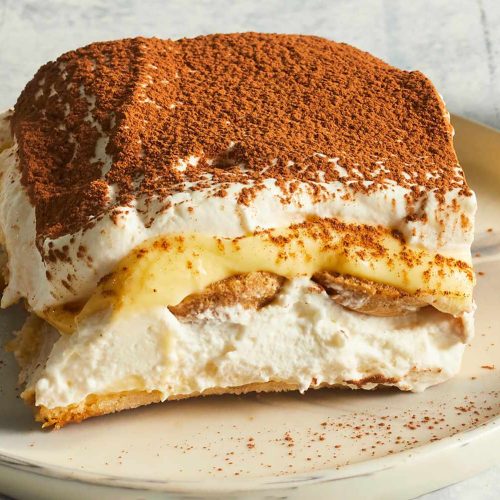 Tiramisu
This easy, 15-minute tiramisu takes practically no time to make and results in a delicious dessert.
Ingredients
8

ladyfingers

0.5

cup

strong black coffee

Caprissimo or your favorite coffee

1

tbsp

coffee liquor or 1 tbsp espresso + 1 tsp brandy + 1 tsp sugar

200

g

Philadelphia cream cheese or mascarpone room temperature

200

g

powdered sugar

1

tsp

vanilla extract

1

shot espresso

1

tbsp

cocoa powder for dusting

dark chocolate shavings for garnish
Instructions
Mix the coffee and coffee liquor. If using jars or cups, break ladyfingers in half and dip them in coffee mix for 10 seconds total.

Next, make the cream layer. In a medium bowl, whip the cream cheese or mascarpone until fluffy. Next, add the powdered sugar and mix well. Finally, add the espresso and vanilla.

Now, you're ready to layer the tiramisu. Add the ladyfingers at the bottom. Add a layer of cream filling. Then sprinkle cocao powder. Repeat with the ladyfingers, cream filling, and cocoa. Add a last thin layer of cream and top with shaved chocolate.

Refrigerate for an hour and enjoy!
Notes
Tiramisu is a decadent Italian dessert with a unique combination of flavors that are sure to delight. By following the tips in this blog, you can make sure your Tiramisu is perfectly creamy and delicious. With careful preparation, you can serve up an impressive dessert that all your family and friends will enjoy. So why not try your hand at making Tiramisu today? You're sure to have a delectable treat on your hands!
Serving And Storing The Perfect Tiramisu
Tiramisu is one of those desserts that is so delicious, it's hard to resist. But making it the perfect way can be a bit of a challenge. That's where easy-minute tiramisu comes in! In this section, we will outline the steps necessary to make the perfect cup of Tiramisu.
First, start by gathering all your ingredients. You will need coffee, ladyfingers (or any other type of sponge cake), sugar, and mascarpone cheese. Coffee can be either hot or iced, but remember to let it cool for a few minutes before using it in your recipe.
Once your ingredients are ready, follow our easy-minute serving and storage tips to ensure that your tiramisu arrives perfectly prepared every time. Finally, let us show you some creative variations on the classic tiramisu recipe that you may not have tried before. By substituting different ingredients or presentation techniques, you can create a tiramisu that is uniquely yours. And don't forget to store any leftover tiramisus properly – they'll taste even better when they're fresh!