These extra-moist chocolate lava mini-cakes are made just for two people and take 25 minutes start to finish—just in time for Valentine's Day.
With Valentine's Day fast approaching, you'll probably want some delicious dessert to end the night on a sweet note. While we've got some great, healthier desserts to try (and some not-so-healthy traditional treats), nothing says Valentine's Day quite like some deliciously gooey chocolate.
However, the night is about romance, not about being stuck in the kitchen while your date falls asleep. So while you need some delicious dessert, you probably don't want to spend all night making it.
That's why we're bringing you these ooey-gooey, soft chocolate lava mini-cakes. They're fantastic on their own, but when you mix the power of simple vanilla ice cream with it, you're one step closer to heaven.
Even better, they'll only take you a maximum of 25 minutes from start to finish. They require just simple ingredients you probably have at home now.
Remember, for more delicious chocolate lava mini-cakes, you'll need to use better chocolate. While these work out fine with milk chocolate, they will be extremely sweet. The darker, the better. I have used 75% dark chocolate before with a little bit more sugar added to balance the bitterness.
Any way you do it, you definitely won't be disappointed with the flavor.
Enjoy!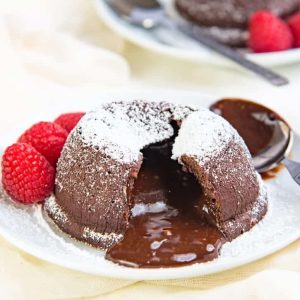 Chocolate Lava Mini-Cakes
These extra-moist chocolate lava mini-cakes are made just for two people and take 25 minutes start to finish—just in time for Valentine's Day.
Ingredients
175

g

dark chocolate

at least 52%

25

g

softened butter

plus extra for greasing

4

tbsp

castor sugar

2

tbsp

flour

1/2

tsp

vanilla essence

2

eggs

1 whole egg + 1 egg yolk

pinch

powdered sugar

optional
Instructions
Preheat oven to 200°C.

Melt the chocolate. I used to do it on the stovetop. However, it is much faster in the microwave. Put it into a microwave safe bowl and microwave at 30-second intervals so that the chocolate doesn't burn.

In a medium bowl, mix the softened butter, vanilla and sugar and beat until creamy.

Mix in the eggs until smooth (you can save the other egg white for another recipe or a healthy breakfast).

Add in the flour until smooth and finally add in the melted chocolate.

Grease 2 ramekins with some butter. Place a round piece of baking paper at the bottom of each.

Pour in the chocolate and bake for at least 12 minutes, up to 18 minutes.

Invert on a plate and knock the ramekins until the cakes come loose. Sprinkle powdered sugar if desired and top with a scoop of vanilla ice cream. Enjoy!
Notes
Chocolate lava mini-cakes are an easy and delicious dessert that is perfect for sharing. Made with rich chocolate cake batter and a gooey center, these cakes are sure to satisfy your sweet tooth. With just a few minutes of prep time, you can have these tasty little cakes ready to enjoy. So what are you waiting for? Give them a try today!
How To Make Perfect Chocolate Lava Cakes Every Time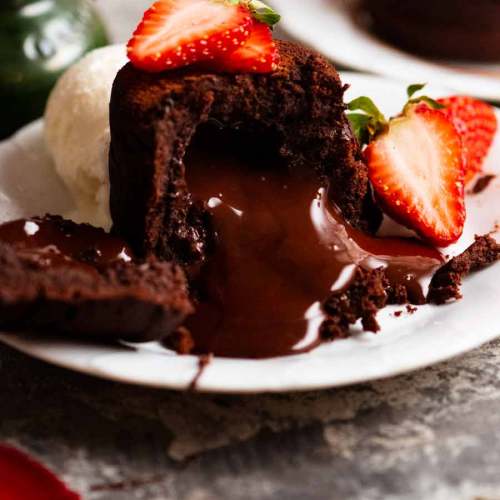 If you're looking for the perfect chocolate lava cake, there's no need to go to a bakery. In fact, you can make them at home in just a few minutes using a kitchen torch. Here's how:
1. Preheat your oven to 350 degrees Fahrenheit. Grease and flour six mini-cake pans and set aside.
2. In a medium sized bowl, combine melted butter and sugar together until well combined. Add eggs one at a time, mixing well after each addition. Mix in vanilla extract and salt until all ingredients are fully incorporated.
3. Pour the batter into the prepared pans and bake for 18-20 minutes or until an inserted toothpick comes out clean from the center of the cake layers. Allow cakes to cool completely before frosting or serving.
If you don't have access to a kitchen torch, you can also broil the mini-cakes for about 1 minute or so to get that nice crispy top!
Now that you know how to make the perfect chocolate lava cake, there are a few tips that will help make sure your cakes turn out perfectly every time:
1. Make sure your oven is properly calibrated before baking your cakes – undercooked or over-baked cakes will result in an unevenly charred top and cracked layers.
2. Be careful not to overheat the pan while broiling; doing so can cause the cake to fall apart. Instead, be patient and watch the cake as it cooks for just a minute or two before removing from the heat.
3. Finally, avoid frosting too early in the process – allowing the cakes to cool completely allows for a smoother texture and fewer cracks in the surface of the frosting (although delicious!).