These elegant braised lamb shanks look fancy but are easy to make. Marinated in red wine and braised in Coke and beef stock, the flavor in these lamb shanks will have you begging for more.
South Africans love lamb—so much so that they're a staple at any braai (barbecue) that's thrown in the country. It's much more popular than pork (although chicken is still #1) and is always welcomed at any table.
Although usually grilled, lamb meat can be made in many, many ways. Our good friend Colin Dreyer, a photographer from Photonique.co.za has offered to present us with his take on a classic: red wine-braised lamb shanks. He's added the surprising taste of Coca-Cola, which gives the lamb shanks a nice,  richer flavor.
First, he lets the lamb shanks marinate in the red wine for an hour, then fries them in a casserole on the stove. After that, he fries up the onions in butter until soft, adds the meat spice (any meat spice you prefer) and lamb shanks, then adds in the Coke, beef stock and remaining vegetables (except for the mushrooms).
It all goes into the oven for about 30 minutes, and then the mushrooms are added. The lamb shanks continue braising for another 45 minutes and then they're ready to devour.
Hmm, delicious! 🙂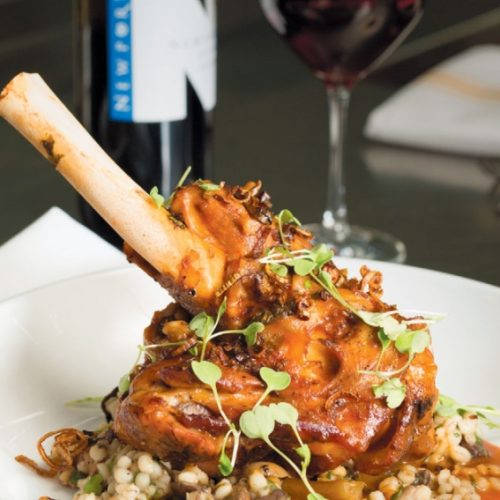 Braised Lamb Shanks with Mushrooms
These elegant braised lamb shanks look fancy but are easy to make. Marinated in red wine and braised in Coke and beef stock, the flavor in these lamb shanks will have you begging for more.
Ingredients
2

lamb shanks

Salt and pepper to taste

Flour for dusting

2

tbsp

Extra virgin olive oil

1

tsp

butter

meat spice

your favorite

2

medium onions finely chopped

2

medium carrots cut 5-10mm thick

400

g

Mushrooms cut in half

Red wine

2

tomatoes

peeled and chopped

1

tsp

tomato paste

400

ml

beef stock

1

cup

Coca-Cola
Instructions
Let lamb shanks marinade in red wine for at least 1 hour, remove from wine and dust with flour. Meanwhile, preheat your oven to 350°F (180°C).

Place an oven proof casserole on the stove over medium heat and add in the extra virgin olive oil.

Add lamb shanks, salt and pepper to taste. Fry shanks until all sides are brown, roughly 5 min, and remove from casserole and set aside.

Add butter and onions to casserole and fry onions until translucent. Add meat spice. Return shanks to the casserole and fry for about 5 min.

Add the Coke and cook for about 7 min. Add carrots, chopped tomatoes, tomato paste and beef stock and cook for 10 min on medium heat.

Set oven to 180 degrees. Remove casserole from stove and place in oven. After about 30 min, add the mushrooms, and place the casserole back in the oven for another 45 min.

If you find that your sauce is not thick enough, mix in a few teaspoons of flour and return casserole to oven until the desired thickness has been reached.

Enjoy!
Notes
Do you have a favorite way to prepare lamb shanks? Share your tips and tricks in the comments below!
Serving Suggestions
When it comes to North African cuisine, couscous is a popular choice. However, there are many other options that are just as delicious and filling. For example, serve rice or polenta instead of couscous. These dishes are also easy to customize with garnishes such as fresh parsley or mint. Pair them with a simple green salad and crusty bread for an elegant meal.
When hosting a party, consider serving dishes that can be easily customized. For example, instead of couscous, serve rice or polenta with a variety of toppings such as minced lamb or grilled vegetables. Another option is to serve a savory dish like Moroccan-Style Ratatouille or Baked Ziti. A side salad and some crusty bread will complete the meal.
Pairing Recommendations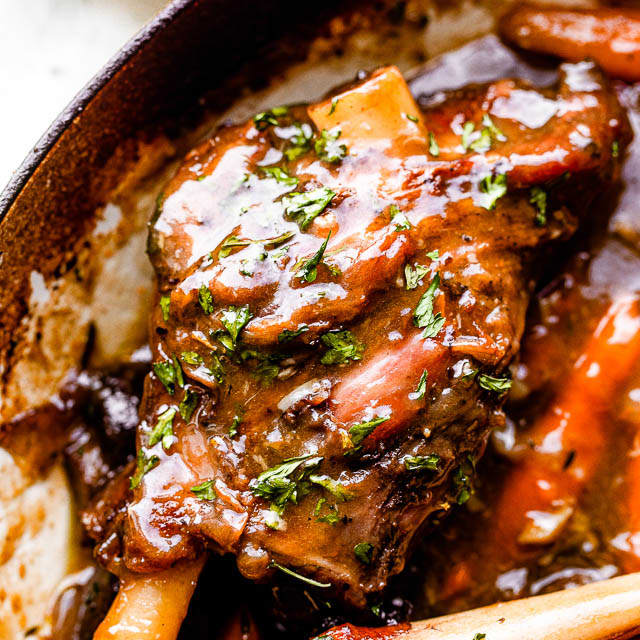 In the world of wine, pairing is an essential skill. By pairing different wines with different foods, you can create a meal that is both delicious and unique.
Pairing recommendations are perfect for sealed wines. This type of wine doesn't usually benefit from being opened and exposed to air, so pairing it with a food that will help to preserve the wine is ideal. Try pairing a demi-glace or cream sauce with your sealed wine for the perfect winter feast!
If you're looking for something more savory, pair your sealed wine with mashed potatoes. This classic dish pairs well with many types of wines, making it an easy way to enjoy a good bottle of wine without having to worry about ruining it.
If you're looking for something more adventurous, pair your sealed wine with a cheese course. This will give your wine the perfect chance to shine and be appreciated. Try pairing an aged brie or a harder, aged cheese with your sealed wine for a truly memorable experience.
Sealed wines are perfect for special occasions. Whether you're planning a themed party or just want to celebrate in style, pairing your chosen wine with specific foods is the way to go!
When choosing what food to serve with your sealed wine, think about how each ingredient will complements the flavor of the wine. For example, if you have a bottle of red wine that has notes of cherry and raspberry, serve it with dessert that showcases those flavors – like cheesecake topped with fresh raspberries or tart cherry pie served cold.
Nutritional Information
Braised Lamb Shanks are a great source of protein. They are also a good source of vitamins and minerals. Additionally, Braised Lamb Shanks are low in fat and calories. This makes them a good choice for people looking to lose weight or maintain their weight. Braised Lamb Shanks are also a lean meat that is good for you.
One downside to Braised Lamb Shanks is that they can be tough. If you're not used to eating tougher meats, it may take some time to get used to them. Additionally, the sauce that accompanies Braised Lamb Shanks can be pretty intense. Some people find it too overpowering.
Variations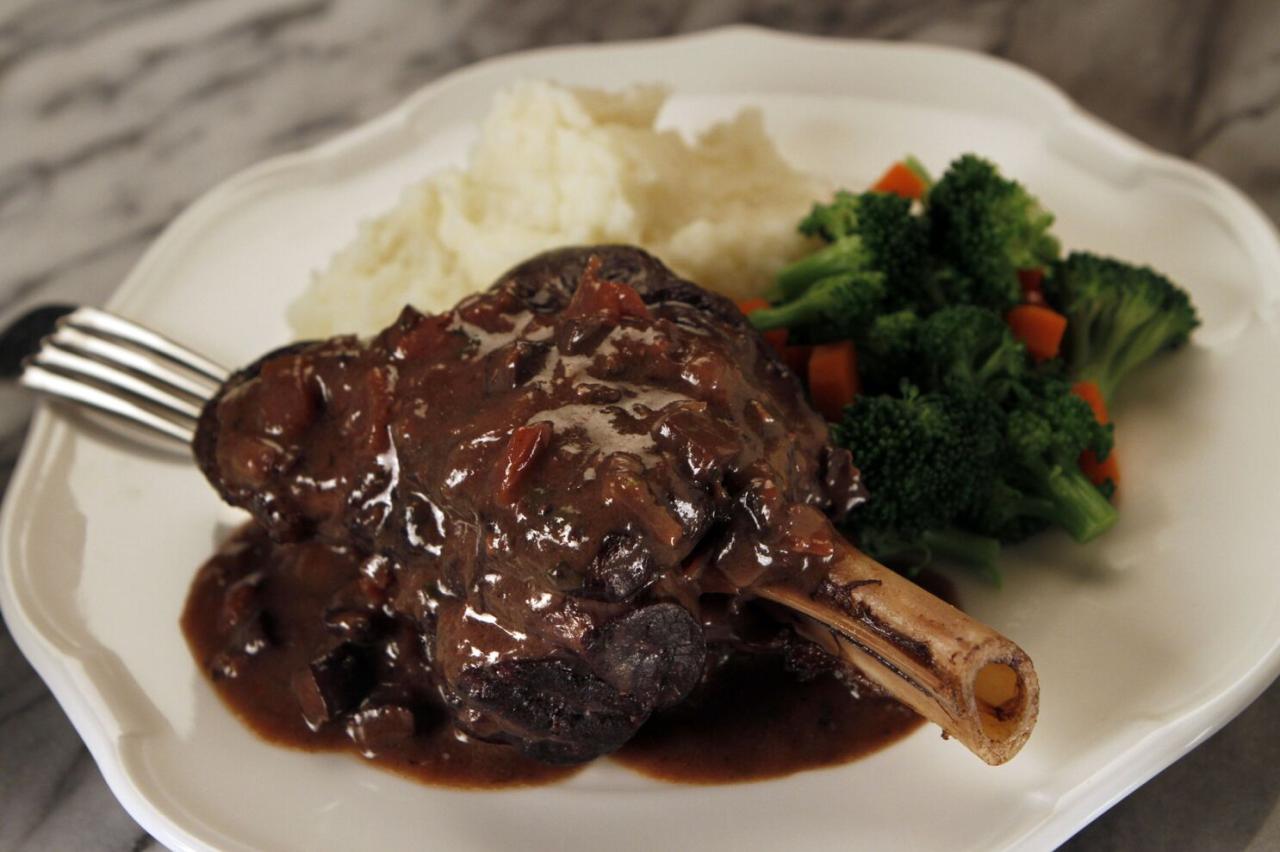 There are three different ways to braise your lamb shanks- in the oven, on the stovetop, and in a pressure cooker. Whichever way you choose, there are many tips and tricks that you can follow to ensure that your dish is perfect.
One of the most important aspects of braising is personalizing it to your own preferences. This means adjusting the spices, adding fresh ingredients, or reducing liquids as needed. A professional chef can help you to create a dish that perfectly suits your taste and palate.
Braising is a great way to bring out the flavors of your lamb shanks. There are three different methods that you can choose from- oven, stovetop, or pressure cooker. All of them have their own advantages and disadvantages, so it's important to customize the dish to your own preferences.
Tips And Tricks
Season your lamb shanks with salt, pepper, and flour. Sear the lamb shanks in a hot pan until browned all over. Add the mushrooms to the pan and cook until browned. Add wine or stock to the pan and deglaze. Add thyme and garlic to the pan. Cover the pan and braise in a low oven until tender. Serve with mashed potatoes or polenta.
Many people like to season their lamb shanks before cooking with salt, pepper, and flour. The flour helps the sauce stick to the shanks while they cook. You can also use a spice rub to give your lamb a little extra flavor. When searing the lamb, it is important that you brown all over so that the meat will be cooked through. Once seared, add mushrooms to the pan and continue cooking until both sides are browned. Add wine or stock to deglaze and then add thyme and garlic. Cover the pan and braise in a low oven until tender; this usually takes around 2 hours depending on the size of your lamb shank chops. Serve them with mashed potatoes or polenta as a main course or side dish.
Some people prefer their lamb rare, while others prefer it more well-done. To achieve different degrees of doneness, some cooks sear their chops for 3 minutes per side before adding additional time in a low oven for resting.
There are many ways that you can prepare your lamb shanks; these tips should only provide you with some basic guidelines so that you can make delicious Lamb Shanks at home!