If you're looking for a savory twist on the classic pumpkin muffin, look no further than these delicious muffins made with feta cheese and sun-dried tomatoes. The feta adds a nice salty flavor to the muffins, while the sun-dried tomatoes add a touch of sweetness and an extra burst of flavor. These muffins are perfect for a fall breakfast or snack, and they're sure to please everyone in the family.
When we speak about Halloween meals and ideas for your party, many people would probably agree that pumpkin would be the king of all the veggies there.
But it doesn't have to be the king only for the pumpkin carving fun. Believe it or not, this veggie is so versatile that there are hundreds of good dishes you can make from it. Not only that, it's also very convenient because you can use it in savory as well as sweet dishes, so you can play a lot in many different ways.
Now, I'm going to show you one pumpkin trick that I use on my husband and daughter. As legend has it, they're not really big vegetable eaters (unless, like Bernard, you believe that potato chips are a vegetable) and Amanda would prefer to stick to pasta, fruit, and throwing things on the floor. Like father, like daughter.
So this time I'm going to show you guys one of my favorite snacks, the delicious and even healthy savory pumpkin muffins swimming with feta, Parmesan, sun-dried tomatoes, curd and of course pumpkin.
My food critics at home love it, so we make it often here, especially in the autumn when pumpkin is everywhere. This works wonderfully well as a Halloween treat (to take a break from all that candy), but you can really make it anywhere, at anytime.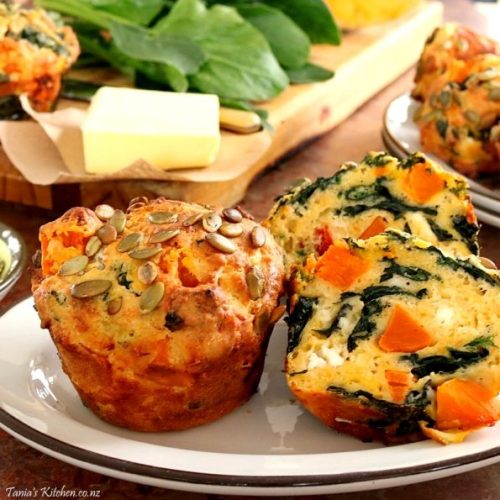 Savory Pumpkin Muffins
These savory pumpkin muffins are loaded with feta cheese and sun-dried tomatoes. They make the perfect fall breakfast or snack! The pumpkin puree gives them a moist and fluffy texture, while the feta and sun-dried tomatoes add a ton of flavor. These muffins are also freezer-friendly, so you can make a batch ahead of time and enjoy them all week long.
Ingredients
200

g

of shredded pumpkin

200

g

of curd

50

g

of sun dried tomatoes

50

g

of Feta cheese

50

g

shredded Parmesan or similar

the Lithuanian Džiugas brand is a good substitute, plus some for garnish

2

medium eggs

2

tablespoons

of flour

Various herbs

I use the fresh ones that we grow at home – rosemary, thyme, lemon thyme, basil – but you can use whatever you have, fresh or dried
Instructions
Preheat the oven to 180ˆ°C.

In order to make these delicious savory pumpkin muffins, first we'll need to get some of the juices out of the pumpkin. If you don't, your muffins will become quite soggy, and we need a crispy outside layer here. So in order to do that, you'll have to shred the pumpkin, sprinkle some salt on top and leave aside for the juices to seep out.

While the pumpkin is resting, beat 2 eggs in a small bowl with a little salt and pepper (if you want, you can add a little bit of milk or cream to it).

In a separate, large bowl, mix curd, cheese, sun dried tomatoes (if the tomatoes come without oil, you can add two tablespoons of olive oil to the mixture) and herbs.

Add the beaten eggs and drained shredded pumpkin to the curd mixture. Mix it all together again. Add two spoons of flour and mix it in nice and slow until it forms a soft mass.

Now, for the baking. Although I use non-stick, silicone muffin cups, I've found it's very difficult for them to come out cleanly. And you wouldn't want to spend all that time baking something delicious just for it to tear up when you take it out.

So what I've learned to do is cut some baking paper into nice, medium-sized squared and use that as my muffin cups. Just fold them and put them into your muffin tray and then add the muffin mixture inside of each baking paper cup.

Once you've got it in the muffin tray, put it into the oven on the center rack for 30 minutes or until golden brown.

Remove from the oven and sprinkle it with a little bit of shredded Parmesan and some herbs, and then its ready to hit the table.

Bon appetit!
Notes
These Savory Pumpkin Muffins with Feta and Sun-Dried Tomatoes are the perfect Fall treat! They are packed with flavor, and the feta and sun-dried tomatoes add a nice salty contrast to the sweetness of the pumpkin. These muffins are also super moist and have a great texture. I highly recommend giving them a try!
What are muffins, and how do they differ from cakes and breads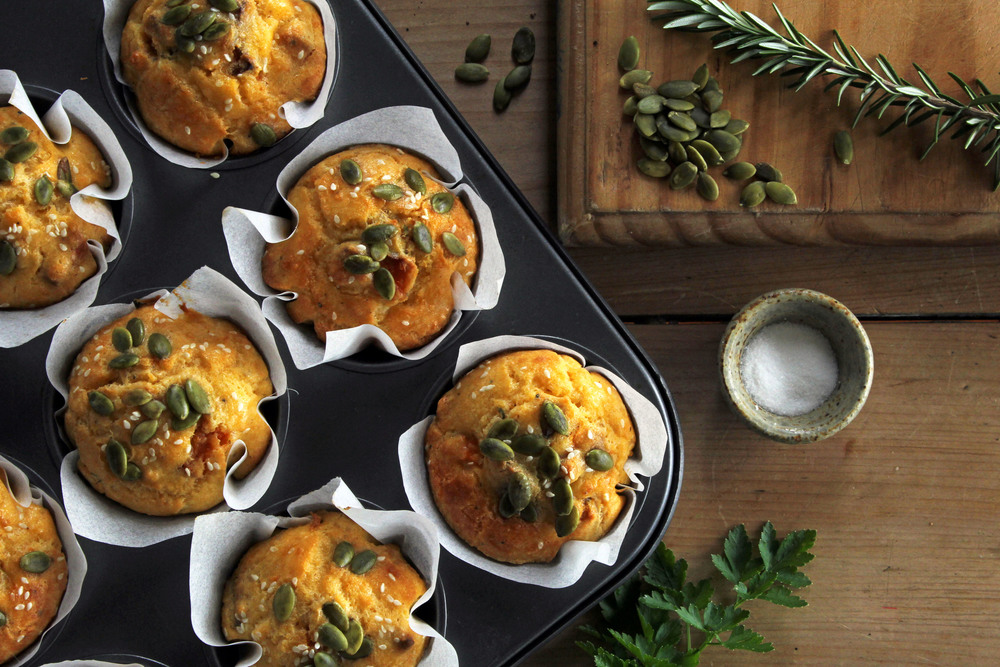 Muffins are a type of cake that is typically smaller in size and has a softer texture than cakes or breads. They are often made with a variety of ingredients, including eggs, sugar, and flour, which gives them a variety of flavors and textures. Muffins are also popular as a quick and easy breakfast or snack option, and can be served with a variety of toppings.
Savory pumpkin muffins – how to store and reheat them
If you're a fan of savory pumpkin muffins, you know that they're a favorite in the fall and winter months. But storing and reheating them can be a hassle! Let's take a look at how to store and reheat these delicious muffins without any trouble.
To store your Savory Pumpkin Muffins, first make sure that you have a muffin tin that is well-sized for the amount of muffins that you want to make. Make sure to preheat your oven to the correct temperature before baking the muffins.
Once the muffins are finished baking, remove them from the oven and allow them to cool for a few minutes before transferring them to a wire rack to cool completely. Once they're cooled, you can store them in a sealed container in the refrigerator for up to three days.
To reheat your Savory Pumpkin Muffins, simply remove them from the refrigerator, allow them to come to room temperature, and bake them in the oven at the correct temperature for your muffin tin. Be sure to watch them closely so that they don't overheat and become dry.
Tips For Perfect Muffins Every Time
Making perfect muffins is a skill that can be learned, but it takes some practice to get it right. Follow these tips and you'll be on your way to delicious muffins every time.
When it comes to mixing the dry and wet ingredients, make sure to use a high-quality mixer that can handle thick batter well. You also need to make sure that the pan size you're using is the right one for the recipe – not too big or too small. Different types of ovens and heat settings affect how muffins bake, so be sure to follow the instructions carefully.
The most important aspect of baking muffins is using fresh ingredients. Not only will this ensure that your muffins are flavorful and moist, but it will also reduce any potential allergic reactions. Different techniques for baking perfect muffins include using a lower temperature for longer periods of time or spraying oil into the oven before putting in the batter. Finally, store baked muffins in an airtight container in a cool place for later consumption.
Frequently Asked Questions About Savory Pumpkin Muffins
Savory Pumpkin Muffins are a delicious and nutritious way to enjoy fall. They're made with wholesome ingredients, so you can feel good about eating them every day. Below, we'll answer some of the most frequently asked questions about these muffins.
What are the ingredients for Savory Pumpkin Muffins?
The recipe includes flour, sugar, baking powder, salt, olive oil, pumpkin puree, and water.
How long do I need to bake the muffins for?
The muffins should be baked at 375 degrees Fahrenheit for 25 minutes or until a toothpick inserted into the center comes out clean.
What kind of toppings can be used for the Savory Pumpkin Muffins?
You can top them with cheese (feta or mozzarella), sun-dried tomatoes, or any other herbs or spices that you'd like.
Is there a vegan option available for the Savory Pumpkin Muffins?
Yes – these muffins are vegan friendly! Simply omit the cheese and replace it with vegan margarine or buttery spread.
Can the Savory Pumpkin Muffins be frozen for later use?
Yes – they can be frozen for up to two months. Simply place them in a single layer on a baking sheet and freeze until solid. Once they're frozen, they can be transferred to a storage container.