What would a Halloween party be without Halloween party food?
By now I'm sure you've got your guests invited, your music set, and your Halloween cocktails ready to go. But what about the food?
To help you out, we've put together a list of our favorite party food to make to get into the fun and spooky Halloween spirit, as well as the pumpkin-loving autumn mood.
But, let's be honest, sometimes you need to just have fun with it, and sometimes you need to be elegant. So to help you out, we put together a Dr. Jekyll and Mr. Hyde list of Halloween party food that'll please both sides: the funny and the fancy.
Fun Halloween Party Food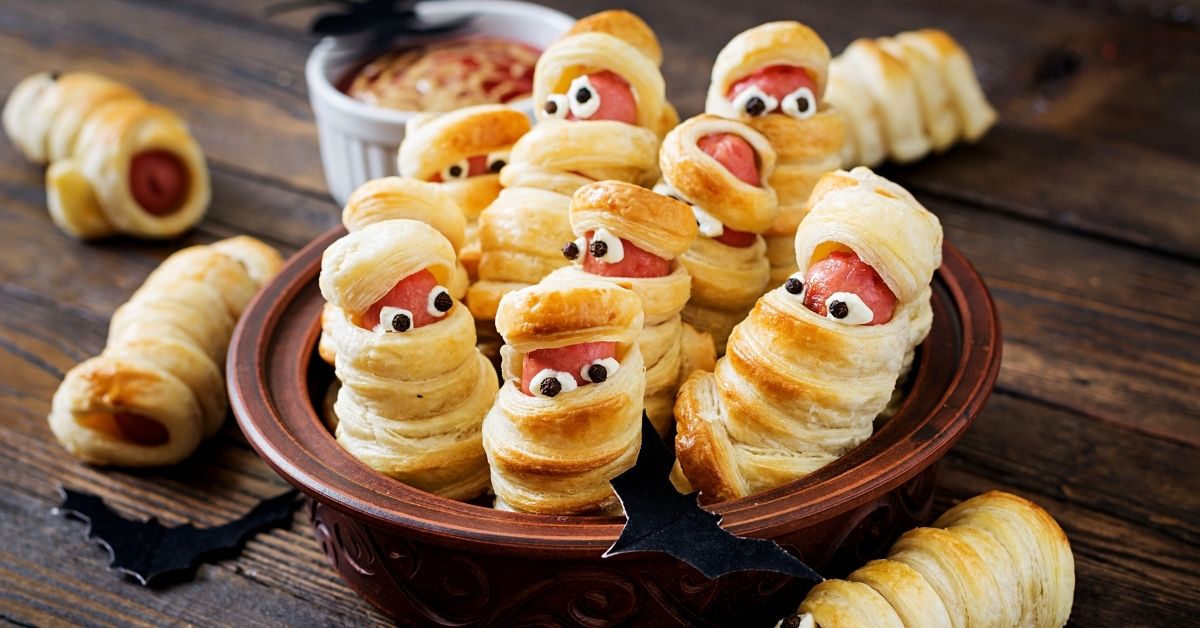 This is great for kids, teenagers, university students and all those who want to have a fun, Halloween-themed party with food that really reflects the holiday.
Nacho Jack-o'-Lantern Cheese Ball
These are actually delicious, cheesy, spicy, jack-o'-lanterny. Nothing fancy needed, and it only takes 15  minutes to put it together.
Meringue Bones and Ghosts
The only thing scarier than ghosts on Halloween is the idea of making meringues. But you don't have to fear this easy recipe.
It's not only great as a Halloween party food, it's also great for getting you through your meringue-phobia. Once you do it, you'll see just how easy it can be.
Zombie fingers
Of course, what Halloween party would be complete without some detached zombie fingers? These delectable treats are made with dates, nuts, oats and dark chocolate. Easy, fast, tasty.
Snakes on a stick
A Halloween party food that luckily won't scare off your guests. These are fun and crunchy.
Made with herbs, pimiento and olives, they are definitely worth experimenting with. We love to make ours brushed with butter and covered with a little sea salt.
Roasted pumpkin seeds
OK, so there's nothing spooky about roasted pumpkin seeds, right? Right—if you have no imagination. Not only are these delicious, made with butter, cayenne and seasoned salt, but they are highly customizable for any other party treat.
Pumpkin muffins
Diana's own pumpkin muffins are a delicious hit of Halloween without too much silliness. Snackable, walk-and-eatable, and even healthy, they'll definitely be a hit at your party.
Bloody Eyeball Dessert – Vegan Panna Cotta
Ooh, a bleeding eyeball. Finger-licking good, fast, flavorful and even better, it's vegan.
But: if vegans are strictly against using any animal products on ethical grounds, would they be against eating something that looked like it came from an animal? A philosophical consideration that'll definitely make you a hit at any party!
Fancy Halloween Party Food
OK, now for the more refined ladies and gentlemen we have in attendance. These foods are great for any fete (that's what fancy people call parties) around Halloween time and will certainly delight your guests.
Nutty Wild Rice and Shredded Brussels Sprout Stuffed Mini Pumpkins
Healthy, delicious, and colorful. These mini pumpkins stuffed with nutty wild rice and Brussels sprouts look so good, it would almost be a shame to eat them all.
Almost.
Roasted pumpkin quinoa salad with 'yogurt' and coriander dressings
For the sit-down dinner party, this salad is a great starter. It has lots of protein from the quinoa, pumpkin seeds, fresh greens, and of course two powerful coriander dressings.
Pumpkin mousse
This dessert is a pumpkin love fest. Layers of whipped cream and spiced pumpkin mousse makes it elegant and delectable.
Chocolate Bourbon Pumpkin Cheesecake
Bourbon, chocolate, cream cheese, pumpkin and aromatic spices—what's not to love in this recipe? It's a fantastic way to finish off your fancy Halloween party and leave a lasting impression on your guests.
Which of these recipes are your favorite? Have you tried any of them or are you planning to as part of your Halloween party food? Let us know in the comments below!