The latter part of the 20th century was a remarkable time for the beverage industry. Prior to that, drinking was commonplace.
High-quality liquor consumption was reserved for those with status, authority, and for medicinal use. However, just about anyone could get their hands on cheap, homemade beer and liquor.
In the 1800s, temperance movements prompted dramatic changes in the adult beverage industry. Societal temperance ideologies, motivated by the belief that a world without beverage alcohol was attainable, eventually led to the prohibition era.
During this period, governments around the world attempted to engage in social engineering to create perfect societies by restricting the use of vices.
According to Alcohol Problems and Solutions, people blamed alcohol for personal, social, and religious/moral problems. This led to crime and disease, and social collectives developed out of a desire for temperance.
Groups that began promoting temperance became known as abolitionists. They demanded the complete and total prohibition of beverage alcohol and became the first "third party" to run for presidency in the US.
Following the prohibition era, we saw a dramatic swing in the alcoholic beverage industry. The introduction and reinvention of buzz-worthy cocktails permanently changed our drinking culture. It became the center of every social gathering, and a tool used to close deals, divulge secrets, and get laid.
As far as cocktails are concerned, the artistry of this period laid the foundation for iconic drinks that are still popular in bars and nightclubs today. From the Hot Toddy to the Shirley Temple, alcoholic beverages and drinking preferences continue to distinguish boys from men.
Today, we'll be taking a stroll down memory lane to discover how a few specific drink recipes have changed over the last 50 years.
1)  Harvey Wallbanger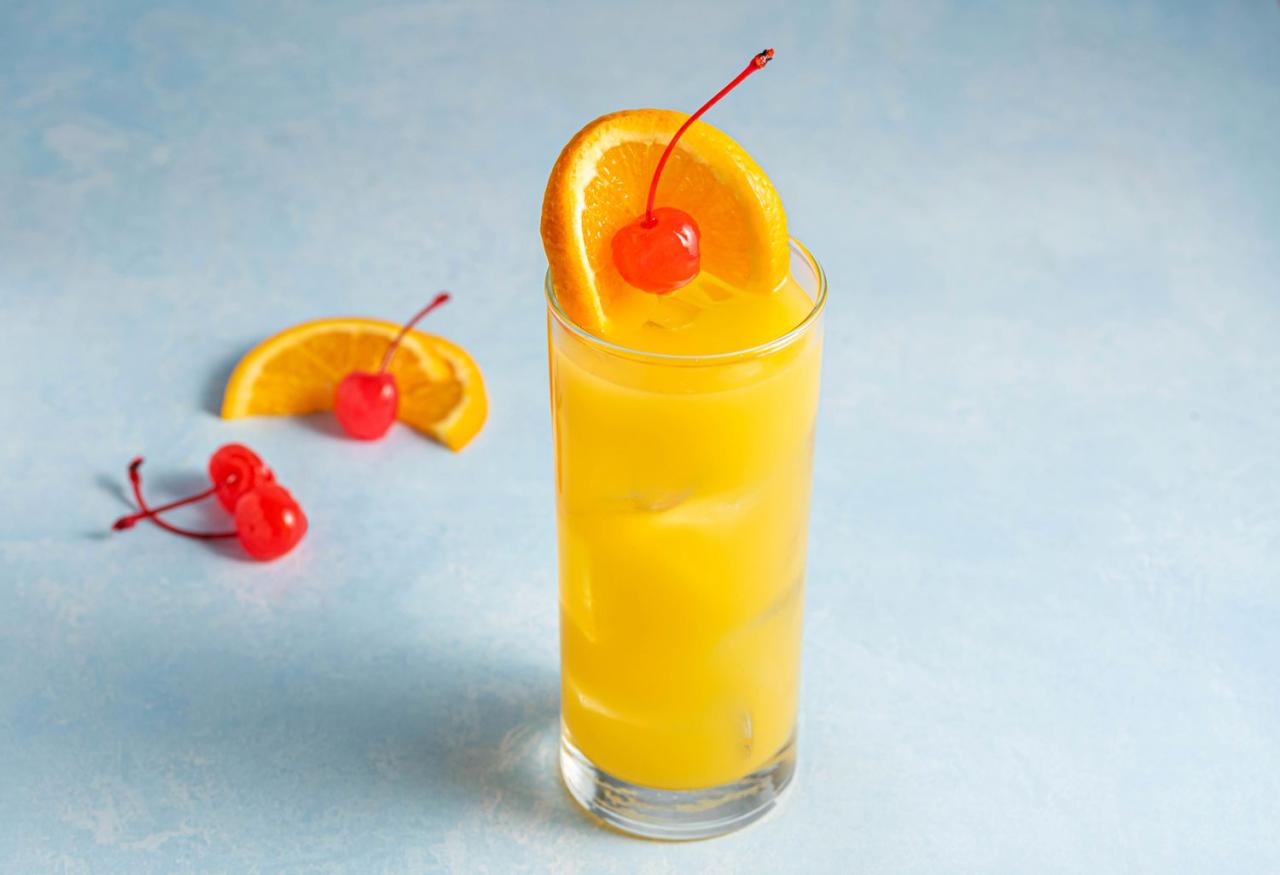 A notable blend off the 1970 conveyor belt, the initial recipe for this endearingly yellow drink was just rum, gin, and tequila or vodka finished off with some orange juice to cushion the blow to your taste buds. The taste is that of vanilla with anise, a hint of citrus and other herbal notes – it's a very complex flavor.
After some trial-and-error over the years, Italian herbal liqueur Galliano soon found its way onto the list of ingredients for this classy and classic drink. Few drinks from that era can compete with the ingenuity in the adult beverage industry today.
However, it's still on the list in most establishments today, and will remain for years to come. A generic recipe will always start with a basic Screwdriver, adding the Italian liqueur Galliano for a crisp finish.
Furthermore, the drink has been remastered, catering to taste buds and preferences around the world. Many cultures add their own twist to the classic Harvey Wallbanger. Examples such as the Modern Harvey include ingredients like vanilla liqueur.
2)  The Piña Colada
According to Wikipedia, The Piña Colada is a beverage originating from Puerto Rico by way of a Spanish bartender.
Born out of the raving pop culture of the 1980s, this drink was first developed by bartender Don Ramon Portas Mingot in 1963.
It was catapulted to success by popular television shows of the time – and remains a cultural favorite in the West, modern-day.
Loosely translated to "strained pineapple," this drink boils down to just that. The strained pineapple is paired with a rum base and coconut cream to complement citrusy notes and a spanish/caribbean vibe.
Popular variations have also developed, featuring the addition of new ingredients like carbonated water, citrus-flavored sodas, fresh mango, banana, and protein powder just to name a few.
3)  The Manhattan
The original Manhattan was made from whiskey/bourbon, vermouth, and maraschino cherries rounded off with garnish. Sounds like a stiff and sweet beverage from the barroom of a prohibition-era speakeasy, right?
Well it's said that this drink originated at the Manhattan Club in New York City in the early 1870s. Invented by Dr. Iain Marshall for a banquet hosted by the mother of Winston Churchill, this beverage was crafted in honor of presidential candidate Samuel Tilden.
Variations such as the Perfect Manhattan and the Dry Manhattan also stem from this recipe, featuring the addition of a sweet lemon garnish alongside dry vermouth.
In other alternatives to The Manhattan like the Metropolitan and the Rob Roy, whiskey is replaced with brandy and scotch whiskey, respectively. This drink is a bit on the stiff side, for cosmopolitan and socialite drinkers who desire a classy, flavorful experience.
4)  The Long Island Iced Tea
As you can probably guess from its name, this drink is a Long Island (New York) native. Born out of the desire to add a fun and potent dimension to an ordinary drink, this one never disappoints for those with a decent liquor tolerance.
Crafting this beverage involves a mix of cola, light rum, gin, vodka, tequila, and triple sec – but a couple of new recipes will incorporate ingredients like sour mix or Irish cream.
By adding cranberry instead of cola, you get the Long Beach Tea. By adding lemon-lime soda and ditching the tequila, you'll get the Miami Iced Tea. Various other drinks have also been forged from the initial blueprint of a Long Island Iced Tea, such as the Electric Iced Tea and the Hawaiian Iced Tea.
5)  The Martini
This is perhaps the cocktail that has been most experimented with over the last 50 years.
Due to its subtle base and short list of ingredients, this drink affords a nice a canvas to mix and match as you please.
A vermouth, gin, and olive/lemon garnish combo was the conventional martini yardstick. However, the norm has been reimagined many times over the years.
A sleek alteration called the White Cosmopolitan Martini, entails the addition of lime, white cranberry juice, and vodka with other minor tweaks.
Altering the vermouth, liquid, and sweetener brands and measurements yields a wide variety of flavor experiences – leaving every establishment to craft their own uniquely dirty martini.
With martinis specifically, it's best to focus on the quality of ingredients used, rather than mixing a bunch of artificial flavors. For example, the Vodka Martini is best when a gluten-free, organic vodka is used. According to Hell's Half Acre Vodka, a naturally sweet vodka that's thoroughly distilled and filtered, this will yield an artisan taste that's easier on the palate.
This subtle effort to make use of a high-quality vodka goes a long way, compared with other mainstream vodkas. When it comes to stiff drinks, alcoholic purity seems to play an important role in the overall flavor profile.
Over the last 50 years, drinking recipes have also become far sweeter. Artificial sweeteners, juices and other flavor-altering additives have taken center stage in many cases. Though much of the ingredients from the previous century remain.
Household drink names still symbolize the nostalgic treats we know them to be. However, the classics are usually off the menu.
At most restaurants you'll find the modern, sugary drinks highlighted and showcased.
You'll have to ask the bartender for the more authentic and vintage beverage options.
For the alcohol aficionado, modern beverage innovation has watered down the drinking experience.