On Kūčios (Christmas Eve) in Lithuania, it is traditional to have 12 dishes on the table, representing the 12 disciples.
These are all non-meat dishes, but the type of dishes usually vary from family to family. There are some super-traditional families that refuse to eat eggs or dairy during the Kūčios meal, and I feel sorry for them. There's already no meat, why take away the joy of cheese? Why?
About half of the dishes are some variety of fish, usually herring or some other fried fish. Families generally tend to make the same kinds of dishes for this day, in order to keep the tradition strong.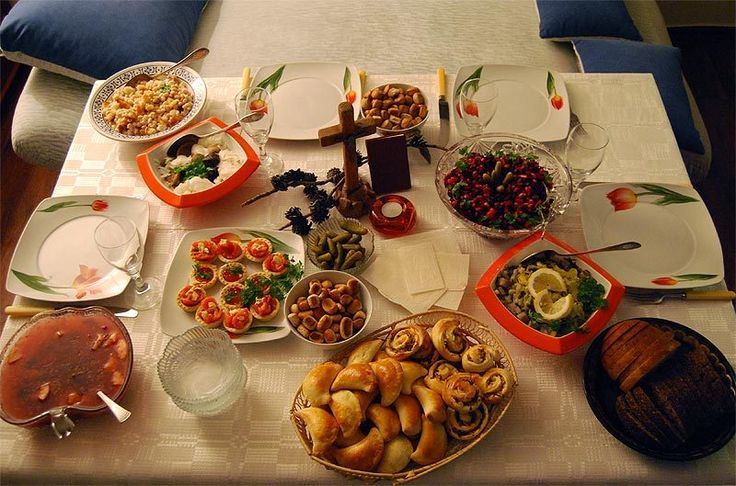 However, that doesn't always have to be the case. Sometimes a little variety can be a good thing.
So today, our non-traditional family would like to present some non-traditional, vegetarian dishes you can make for Kūčios. Most of these are easy and need just a few ingredients and little time, while others take more time.
All of them, however, are delicious, so pick and choose and switch it up this Christmas Eve.
Roasted gnocchi, sun-dried tomato & olive stacks
These are some delicious snacks that can add a nice touch to your Christmas Eve table. These canapés are made with store-bought gnocchi, so all you have to do is assemble and bake in the oven.
With only 25 minutes in the oven, and only 4 ingredients in total, they  make a quick, stress-free Kūčios dish.
Potato/Mixed Vegetable Samosas
This is one of the recipes I make often that reminds me of Cape Town. I took a copy of my mom's More Cape Malay Cooking by Faldela Williams and these are my favorite from that book.
We'll probably make them again this year, as they offer very flavorful snacks that are also filling. They can be a little bit labor-intensive, seeing as we usually make 3 different types of fillings (potato, mixed vegetable, and minced meat). We use store-bought pastry and, instead of frying, we fry-bake.
Beet, Cheddar, and Apple Tarts
These are definitely note traditional, with a flavor combination that will surely confuse and then surprise your guests.
Beet is sweet (especially roasted), and mixing apple with cheddar has always been an adventurous but tasty thing to do. Using store-bought pastry, you can have this 4-ingredient dish done in less than 30 minutes (and most of that time is in the oven).
Avocado and Tuna Tapas
Tapas are known for being flavorful and crowd-pleasers. They can also be very easy, such as this avocado and tuna tapas.
Avocado halves are stuffed with a creamy tuna-onion-sweet pepper mixture. It's really fun to eat and really easy to make. Less than 20 minutes and no baking at all.
Soy-Marinated Fish
Okay, this is a bit of a fancier dish, and therefore requires more time and effort. However, with all these other dishes on this list, that's not too bad.
You'll need regular Chinese sauces and spices for this one. It's a dish that's usually served cold, so after you marinate the fish and cook it, you'll add the sauce on top and put in the fridge until it's ready to eat.
Spinach, Feta and Curd Pie with Sun-Dried Tomatoes
This is a healthy and delicious pie to make, reminiscent of Greek flavors. It's one that we love to make quite a lot, and because it's in the oven most of the time, you don't have to do much work at all.
With just a few ingredients and 15 minutes of preparation time, this easy pie will be a delicious warm or cooled dish for your Kūčios (Christmas Eve) table.
Mouth-Watering Stuffed Mushrooms
We haven't yet written up our version of stuffed mushrooms, but these were the inspiration for the ones we make. We make them a lot and they are super quick and easy. Just 3 basic ingredients (mushrooms, Dziugas, cream cheese) plus the spices, and you're good to go.
Trust us, this one is heavenly, and mixes the (non-traditional) Kūčios flavors of mushrooms and cream.
Salmon Salad
Sometimes you just need some salad. Salmon is a very delicious, salty/smoky fish to use and it always adds nice depth of flavor to any dish.
This one takes only 15 minutes to make, so you can prepare it even when your guests have already arrived.
Broccoli, Shrimp and Avocado Salad with Wasabi
Another interesting Asian-inspired flavor to really spice up your Kūčios dinner table. The shrimp and broccoli make for a creamy combination, the avocado makes it refreshing, and the wasabi gives that extra heat to make it memorable.
Only 3 main ingredients in this one, and very fast to make.
Spinach cake
This very tempting, delicious golden cake (more like a bread loaf) is actually also very healthy. The main ingredients here are spinach, feta and gruyère cheeses, and some fresh basil leaves.
It takes just 10 minutes to prepare and bakes for 50 minutes.
City Ceviche
Okay, this is another of the more fancier dishes. It takes a bit of preparation and a few more ingredients than the others on this list.
However, the presentation on this one will delight your guests, and then the flavor will knock them out cold. These are appetizers, so when mixed with your other Kūčios food (and ones from this list), it makes for a full, memorable meal.
The best Kūčios (Christmas Eve) meal…
…is shared with wonderful family (and very close friends), so have a great dinner!