This south Indian chicken curry recipe is a flavorful, well-spiced dish made by our good friend David. While it does require a bit of spices, the other ingredients are easy and one simple trick makes it much faster.
At our church in Vilnius, Lithuania, we've met some really great people, including a smart, talented student/chef from the Andaman and Nicobar Islands in southern India.
He had been telling us for months about his amazing chicken curry, but we hadn't had a chance to taste it yet. Luckily, now that it's summer, he had some free time so we invited him over to taste his famous chicken curry.
Not only did he deliver one of the best curries I had in my life (the other amazing one is Diana's spicy sweet coconut chicken curry), but he was also kind enough to show us how we can make it too.
According to him, you can use beef, mutton or lamb as well, but never pork.
David is a self-identified meat-atarian, so he says unenthusiastically that you can make vegetable curry as well, with potatoes and other hardier vegetables.
Being Indian, of course, this recipe has a good amount of spice. It's nothing that will burn your nose off, but if you have very little tolerance for heat you may want to cut the chili in half.
In fact, because our guests were all European and not too friendly with a lot of heat, David quickly whipped together a raita (a combination of plain yogurt, cucumbers, and mint). However, raita is normally eaten with biryani, not curry.
All good curries must start with a good base of spices, and this one is no different. We wish there could be some shortcuts, like curry pastes from the store, but the best is always homemade.
The spice mix above contains turmeric, coriander powder, chicken masala, chili powder, garam masala, whole spice, bay leaves, cardamon, cloves and pepper.
There's just no getting around that. If push comes to shove, you can get a spice mixture from a trusted source.
Next, David showed us a trick to cut down the time.
He added a few spices to the chicken, including turmeric, chili powder and salt.
He then popped them in a 430 F (220 C) oven for 15 minutes, and then brought the temperature down to 385 F (200 C) for 20 more minutes until nicely roasted and beginning to pull back from the bone.
While the chicken was roasting, he made the curry: oil in a pot, the whole spices fried for a few minutes, and chopped onions and tomatoes until the onions have gone soft and the tomato has lost its liquid.
Lastly, add the ground powder and let it cook for a few more minutes.
Then you blend it all to your desired thickness. However, it is better to have a finer curry.
Next, add the chicken with the pan juices (yes, all the pan juices) and cook over medium flame. After 15 minutes, you'll need to add the sour milk (kefyras in Lithuania) and mix until well blended.
Cook for a further 10 minutes until the oil rises to the top of the curry.
If you don't have sour milk, you don't need to buy it from the store. For 1 cup of sour milk, simply add 1 tbsp of vinegar or lemon juice with enough milk to make 1 cup. Stir, and let it stand for abut 5 minutes.
Please note: sour milk is not the same as spoiled milk. Spoiled milk is simply old milk and will make you sick.
We served it with basmati rice, cooling raita and this delicious naan bread from Saveur.
Get the recipe below and enjoy! If you've tried the recipe or have any questions, don't hesitate to let us know below! Also, if you've tried it, we'd be happy to hear how it turned out.
A Mouthwatering Chicken Curry Recipe From David Himself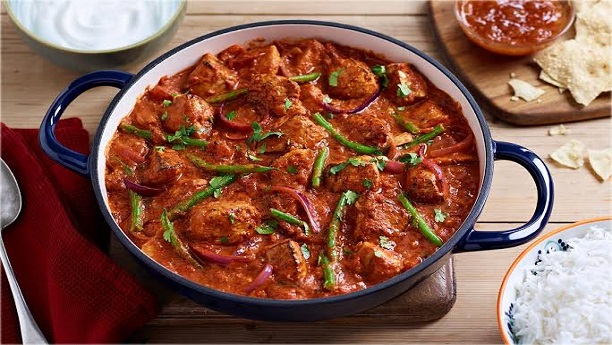 If you're looking for a delicious chicken curry recipe that is perfect for a night in with the family, look no further than David's Chicken Curry Recipe. This dish is easy to follow and suitable for all levels of cookery, from beginner to expert. Plus, it only takes around 30 minutes to prepare, so you can have it on the table in no time.
David's Chicken Curry Recipe is made from a simple, but flavoursome, mix of Indian spices. The main ingredients are chicken breasts and coconut milk, which give the dish its characteristic rich and creamy flavour. You will need to add some fresh ginger and garlic to the mix, as well as a pinch of ground cumin. Finally, you'll need some green bell peppers for colour and added crunch.
Once all these ingredients are mixed together, it is simply necessary to simmer everything until the chicken is cooked through – around 25 minutes in total. Once done, serve over steamed rice or naan breads with a dollop of yoghurt on top for extra creaminess and flavour. David recommends that you garnish your curry with fresh coriander leaves if you have them available, but this is entirely up to you!
Tips And Tricks For Making The Perfect Chicken Curry
When it comes to making the perfect chicken curry, there are a few key tips you need to know. For example, use the freshest spices possible to get the most intense flavor. Additionally, add a touch of sugar to balance out the heat and give your curry some sweetness. And finally, don't be afraid to experiment with different ingredients – you might be surprised at how well they work together.
One of the best things about chicken curry is that it can be made in a variety of ways – so feel free to get creative with your garnishes. For example, you could add diced onions or fresh cilantro leaves. Or maybe you'd like to try something more unusual, like pistachios or black beans. Just remember not to overdo it – too much spice can ruin an otherwise delicious dish!
So if you're looking for a delicious and easy-to-make chicken curry recipe, be sure to check out these tips and tricks. And don't forget – you can always experiment with different ingredients to create something unique and tasty!
The Difference Between US And South Indian Chicken Curries
David's experience as a chef in both the US and India has given him a unique perspective when it comes to chicken curries. In this blog, he will discuss the different flavors that can be found in South Indian chicken curries and how to make a traditional South Indian chicken curry.
South Indian chicken curries are often spicier than their US counterparts, and the use of different spices gives each curry its unique flavor. Some common ingredients used in South Indian chicken curries include cumin, coriander, cardamom, cloves, cinnamon, ginger, and fenugreek. These spices are often mixed with coconut milk or heavy cream to give the dish a rich and creamy texture.
In addition to adding spice and richness, other important factors when making a South Indian chicken curry are the type of chicken used and the method of cooking it. In most cases, breasts will be cooked in a sauce that is either simmered or grilled over an open flame. This allows the natural flavors of the bird to come through while maintaining juiciness. Chicken thighs can also be cooked this way but may take slightly longer since they don't cook as quickly over an open flame. Whichever method is chosen should be paired with a side dish such as naan bread or rice to help balance out the spicy flavor profile of the curry.